A Free Webinar : Loving The Alien -Diverse Futures as Imagined in Science Fiction
About this Event
At this free event we are going to be talking with a panel of authors, fans and organisers about the diversity, inclusion, challenges and mental health of the science fiction community. There will be plenty of con banter, Star Trek references, fun and a real sense of community. You are so welcome to join us, even if this is not your scene for a sneak peak into another minority group who are often ridiculed and excluded because of their unusual interests. Feel free to wear your Spock ears, bring your questions, play your tv theme tune playlist and join us with a drink on Friday 23rd October at 8pm.
See our fantastic panelists below: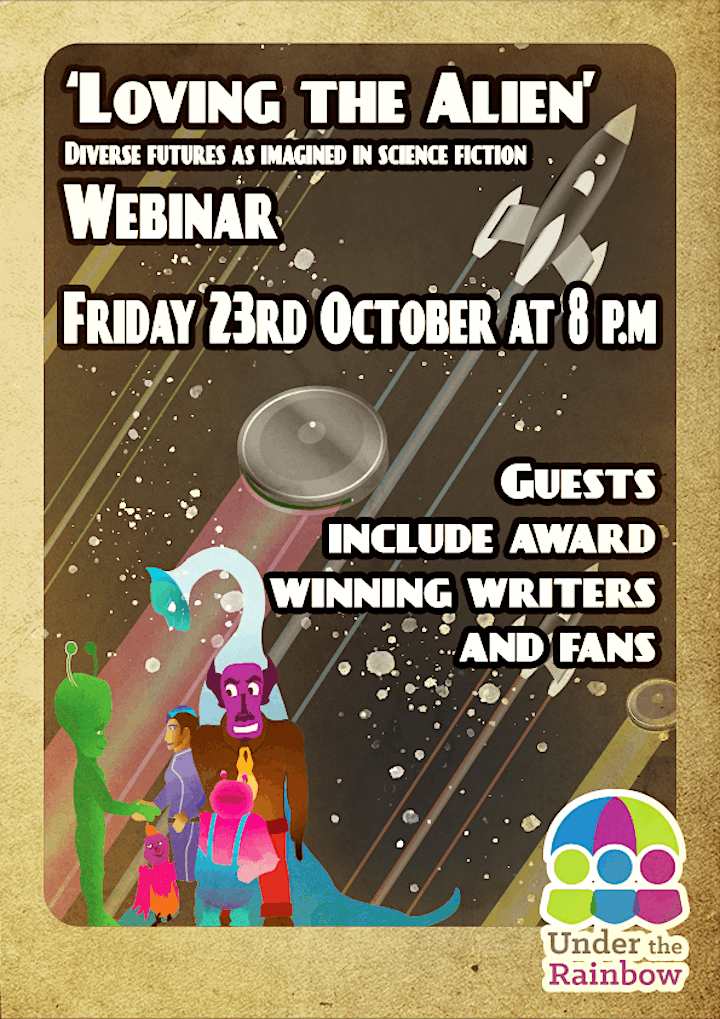 Philippa Ryder from Under the Rainbow (who, with her wife Helen was a joint Fan Guest of Honour at this year's National Science Fiction Convention) will be moderating our friends and guests, outlined below:
Cheryl Morgan is a writer, editor and publisher, and also a trans woman. She has won four Hugo Awards, and has been a Guest of Honour at conventions and conferences in Finland, Croatia and Austria. Cheryl owns Wizard's Tower Press , and writes about science fiction and fantasy in Salon Futura . You can follow her on Twitter as @CherylMorgan.
James Brophy: Professionally a Graphic designer and Photographer, James is also a big fan of comics and science fiction and has been in and around organising that national Irish science fiction convention Octocon for the last 20 years writing panels and interviewing guests.
Catherine Sharp been a lover (and hopeful writer) of science fiction and fantasy for nearly as long as she can remember, although she didn't start attending SF conventions till 2011. She was immediately hooked, and since 2013 has been a busy contributor to Octocon, the Irish national SF convention. For the past 3 years, she's been in charge of Octocon's programme, trying every year to make it that bit more diverse and inclusive.