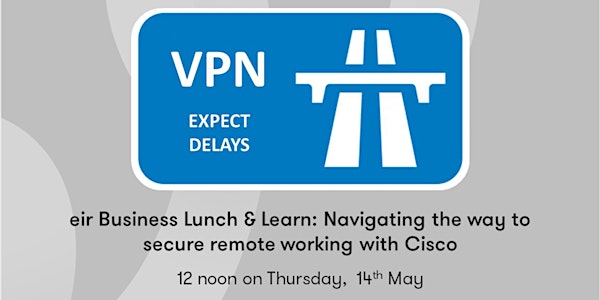 Lunch & Learn: Navigating the way to secure remote working with Cisco & eir
Join the first of the eir Business Lunch & Learn webinar series on security in this new reality we all face. Lunch is on us!
About this event
Is the VPN the new M50? With the majority of the workforce now working remotely, VPNs are busy and slow. Users will often bypass the VPN to get their work done, leaving them vulnerable to cyber attack.
In less than an hour, Riaan Maritz, Technical Specialist at Cisco, will show you how Cisco Umbrella is the solution. It defends against security threats, whether users access the internet on or off the corporate network. This secure remote working solution is adaptable to any size organisation, integrates seamlessly with your existing security stack and can be deployed in minutes to protect all devices and locations. As a Cisco Gold partner, eir is best placed in the market to deploy, configure and manage Cisco Umbrella for your organisation.
Register today to secure your place.