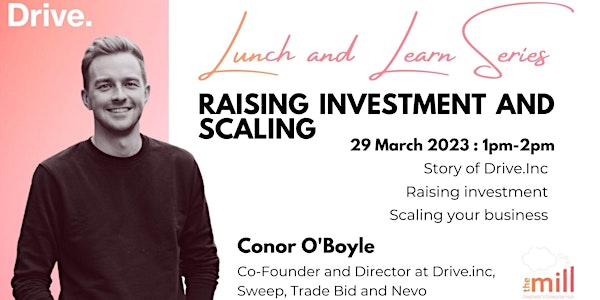 Lunch & Learn - Raising Investment and Scaling
Story of Drive.Inc, Raising Investment, Scaling Your Business
By The Mill, Drogheda's Enterprise Hub
Date and time
Wed, 29 Mar 2023 13:00 - 14:00 IST
Location
The Mill Enterprise Centre Newtown Link Road A92 CD3D A92 CD3D Drogheda Ireland
About this event
ABOUT DRIVE.INC
Founded by Conor O'Boyle and Shane Ennis in 2019, Drive Inc is the parent company of second-hand car sales app Sweep, which allows consumers to search more than 30,000 vehicles from more than 400 trusted dealerships. It is also behind TradeBid, a recently launched digital trade marketplace for dealers.
The company, which intends to use the new financing in part to increase employee numbers from 20 to up to 35, is also in the process of rolling out Nevo, an electric vehicle-focused online solution that includes a route planner highlighting charging stations and providing precise range estimates.
"With Sweep, we essentially came up with a Tinder-style solution that has proven incredibly popular with over 20 million swipes from users to date. With TradeBid, we've widened out our focus with another hit solution and we are extremely optimistic on how we can help drivers make the switch to electric vehicles through the rollout of Nevo," said Conor.
About the organiser
The M1 Payments corridor has been developed and proposed by The Mill Enterprise Centre, Drogheda, as a means of utilising and adding value to the geographic concentration of ePayments and Fintech transaction companies along the M1 corridor (i.e. PayPal, Vesta, State Street, Yapstone etc).It is an industry grouping of ePayments / Fintech companies, and allied stakeholders (IDA, EI, DCU, DKIT, Louth Economic Forum), promoted by The Mill, that serves the wider geographic M1 corridor in a Fintech vertical known as ePayments.Industry members of the M1 Steering Group include Vesta, PayPal, State Street, Aphix Software, Yapstone, and Coca-Cola International Services.
M1 Drogheda Chamber Skillnet was established to support companies across the North East Region by offering them access to subsidised training in a local setting.  The focus of the M1 Drogheda Chamber Skillnet is to communicate with businesses along the M1 Corridor, to listen to their training needs and current and future skill shortages, and to support them by organising training courses which are impactful, relevant and which deliver results. The M1 Drogheda Chamber Skillnet is co-funded by Skillnet Ireland and member companies.
The Mill is Drogheda's community enterprise centre and co-working hub. We support the accelerated creation & growth of healthy new enterprises in the South Louth, East Meath and Drogheda areas. Through our various programmes and facilities we promote and support a spirit of entrepreneurship and innovation at every level in the local community.