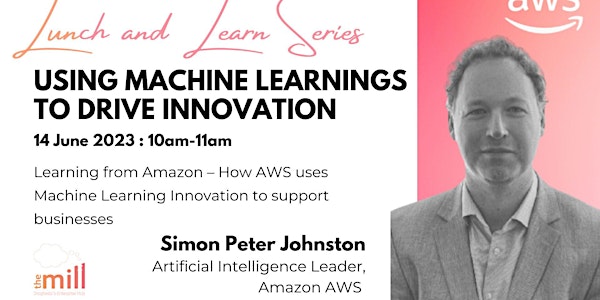 Lunch & Learn - Using Machine Learnings to Drive Innovation
Learning from Amazon - how AWS uses machine learning innovation to support businesses
By The Mill, Drogheda's Enterprise Hub
Date and time
Wed, 14 Jun 2023 02:00 - 03:00 PDT
About the organiser
The M1 Payments corridor has been developed and proposed by The Mill Enterprise Centre, Drogheda, as a means of utilising and adding value to the geographic concentration of ePayments and Fintech transaction companies along the M1 corridor (i.e. PayPal, Vesta, State Street, Yapstone etc).It is an industry grouping of ePayments / Fintech companies, and allied stakeholders (IDA, EI, DCU, DKIT, Louth Economic Forum), promoted by The Mill, that serves the wider geographic M1 corridor in a Fintech vertical known as ePayments.Industry members of the M1 Steering Group include Vesta, PayPal, State Street, Aphix Software, Yapstone, and Coca-Cola International Services.
M1 Drogheda Chamber Skillnet was established to support companies across the North East Region by offering them access to subsidised training in a local setting.  The focus of the M1 Drogheda Chamber Skillnet is to communicate with businesses along the M1 Corridor, to listen to their training needs and current and future skill shortages, and to support them by organising training courses which are impactful, relevant and which deliver results. The M1 Drogheda Chamber Skillnet is co-funded by Skillnet Ireland and member companies.
The Mill is Drogheda's community enterprise centre and co-working hub. We support the accelerated creation & growth of healthy new enterprises in the South Louth, East Meath and Drogheda areas. Through our various programmes and facilities we promote and support a spirit of entrepreneurship and innovation at every level in the local community.