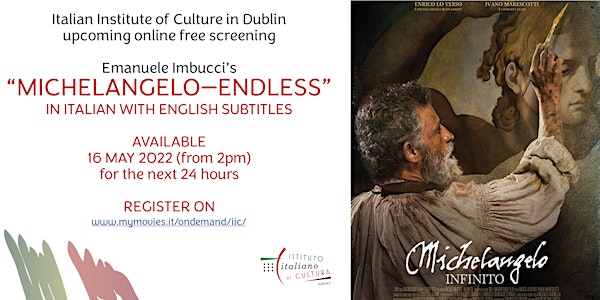 Lunedì al cinema: Free online screening of "Michelangelo - endless"
Lunedì al cinema: Free online screening of "Michelangelo - endless" - ITA SUB ENG
About this event
"Michelangelo - endless" is a 2018 movie directed by Emanuele Imbucci.
It is the first art movie ever realized on the widely recognized Renaissance genius who entered the history of universal art: Michelangelo Buonarroti.
A docufilm for the big screen, where the world of cinema and art meet to outlines the portrait of a reserved and troubled man, subject to striking contrast and capable of fiery passions, but also to highlight the great courage that he showed to uphold his beliefs and ideology.
In Italian with English subtitles.
Free event with online booking on the MyMovies website for IICs CLICK HERE
HOW TO USE:
1. Register by creating a personal profile on the "MyMovies for IIC" website (this registration remains valid for future screenings as well).
2. Access the "MyMovies for IICs" site by entering your profile data and reserve your seat in the "virtual room" for the chosen film (only the IIC Dublin films are visible from Ireland).
3. On the day of the screening, starting from the starting time of the indicator (usually at 2 pm Dublin) the film will be available for viewing and the user will have 24 hours to access the "MyMovies for IIC" site and complete autonomously watching the film.
4. Access is limited to a maximum of 500 admissions per screening. 5. Access is geo-restricted to users connecting from Ireland only.