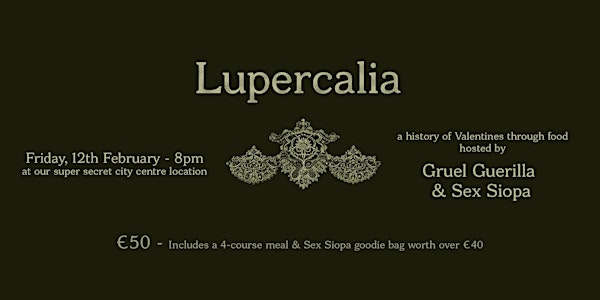 Lupercalia - A History of Valentines through Food
When and where
Location
Super secret Dublin city centre location
Description
Dublin's supper club superhero, Gruel Guerilla has teamed up with Ireland's award winning sex toy retailer, SexSiopa.ie to create Lupercalia - a Valentines event that's the perfect mix of food, sex, and culture! Upon arrival guests will be greeted with Sex Siopa goodie bags with toys & accessories worth over €40 and then treated to a sumptuious 4-course meal inspired by the history, folk traditions and mythology of Valentines day.
Lupercalia will take place in our super secret Dublin city centre location which will be announced the week of the dinner via email.
Friday 12th Feb - 20:00
While we will be serving meat as part of the meal, an equally mouthwatering vegetarian option is available. Please contact us when purchasing your ticket to let us know if you'd like a vegetarian dish instead.
If you've any questions or queries, please email us at hello@sexsiopa.ie
About Sex Siopa
SexSiopa.ie is Ireland's multi-award winning health and design focused sex shop, stocking only toys and accessories made from bodysafe materials. Our goal is to give everyone the knowledge and accoutrements to give themselves and eachother awesome orgasms! For more info and lots more sex toys, please visit sexsiopa.ie
Owner Shawna hates describing herself in the 3rd person for blurbs like this, but loves talking about sex. She does it a lot, most notably at the Science Gallery Tent @ Electric Picnic, The Irish Times Arts & Culture and Women's Podcasts, the Trinity Historical Society, and her SOLD OUT show at Kilkenomics - The Economics of Sex. She also like to write about sex a lot too and her work can be found on her blog and in the UCD College Tribune.
About Gruel Guerilla
Kevin is from Dublin. He loves food. He really loves food that comes from Ireland. He thinks Ireland is tip top. He fell so in love with food about 5 years he decided to do something about it. He set up News of the Curd with two goals in mind, showcase Irish producers and impress a very impressive person.
After a year of hosting dinners in his apartment every Wednesday and impressing the impressive person he felt it was time to go a bit further. He began Gruel Guerrilla with the motto 'food anywhere, food everywhere' and by God he means it. He built it with the same ethos as NOTC and Gruel Guerrilla took over. Always in search of Irish producers making the most wondrous of things, he found what he had always known about himself - he hoards. He once hoarded books and images, now he hoards producers and plates.
His interest turned to a career and a deeper love of each ingredient, wanting each of his diners to understand how he saw every item that came across his work top. His impressive person came on board, with their wonderful knowledge and passion. Their strong beliefs in growing and respecting. They built a garden, they wasted nothing and enjoyed everything. Their skills as both an artist and chef came together, beautifully drawn images accompanied menus, logos pop and our image went far. Thousands of people tried our food, most of them not knowing it all came from this little island, past the hands of a wonderful local and created into something very important to us. It's always been about love, for a person, a place, a taste or just for ourselves.