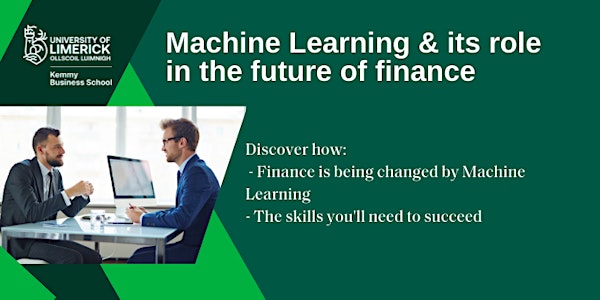 Machine Learning & its role in the future of finance
Discover how finance is being changed by Machine Learning & the skills you'll need to adapt.
About this event
Machine Learning and its role in the future of finance.
Presented by Dr. Barry Sheehan & Dr. Darren Shannon lecturers & researchers at the University of Limerick. This webinar discusses the combination of financial knowledge and the advanced computer science skills needed to thrive in modern finance.
As the financial services industry becomes a mass adopter of Artificial Intelligence in the near future.
This webinar is aimed at those working in financial services, professional services, and data analysis roles who wish to understand how to upskill and reskill to meet the considerable industry demand for applied technical skills combined with strong business acumen.
The webinar will also discuss the University of Limerick's MSc in Machine Learning for Finance and how this programme's unique blend of interdisciplinary subjects equips you to be ready to meet the changes within the financial industry.
The MSc in Machine Learning for Finance is a 100% Online, 2-year Part-Time programme that can be studied from anywhere in the world.
There will be time to ask questions and discuss career options.
Wednesday 13th July 2022 19:00-20:00
Sign-up in order to receive the link to the event & the recording after.
For any queries about the event please email: business@ul.ie
Or visit our website: to find out more about the course.