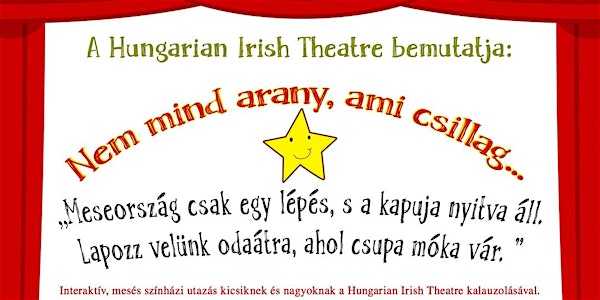 Magyar meseelőadás Edinburghban -Family Theatre in Edinburgh(eng subtitles)
A Magyar-Ír Színház meseelőadása februárban Edinburghban is bemutatásra kerül!
When and where
Location
South Leith Parish Church Hall 6 Henderson Street Edinburgh EH6 6BS United Kingdom
Refund Policy
Contact the organiser to request a refund.
About this event
A nagy érdeklődésra való tekintettel a Magyar-Ír Színház február 15-én Edinburghban is bemutatja magyar nyelvű meseelőadását!
Zenés, interaktív színdarabunkon szeretettel várjuk az egész családot, kicsiket és nagyokat egyaránt!
Nem mind arany, ami csillag...
" Meseország csak egy lépés, s a kapuja nyitva áll.
Lapozz velünk odaátra, ahol csupa móka vár. 
Hol ki-ki a maga szerencséjének kovácsa, 
s tarisznyában lapul a hamuban sült pogácsa... "
Mesés interaktív színházi utazás kicsiknek és nagyoknak a Magyar-Ír Színház kalauzolásával.
Ajánlott érkezés: 16:00
A 60 perces előadás után várja a gyerekeket a MESEERDŐ! Varázslatos játékok a színészekkel és bepillantás a színházi kulisszák mögé.
*****
Due to the high interest the Hungarian Irish Theatre presents its children fairy tale in Edinburgh on the 15th of February!
All is not star that glitters…
" Wonderland is one step away, you can see the open gates.
Come with us, and have a good time, lots of fun and laughter waits.
Turf-cake in your haversack, the journey leads us far away.
One can thank his lucky star, but that is all that I can say…"
Join us for a fabulous theatrical journey for all ages. 
Recommended arrival time: 4pm
The show is 60 minutes.
The MAGIC FOREST waits for the children after the show! They can play games with the actors and discover the world of the characters.