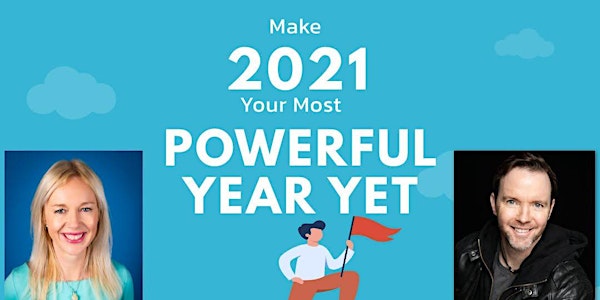 Make 2021 Your Most Powerful Year Yet!
2021 – Your Most Powerful Year Yet! Embracing the Lessons from 2020 to Create: Presence Release: Anxiety Feel: Powerful
About this event
PLEASE NOTE IF YOU REGISTERED AFTER 8.pm LAST NIGHT - YOUR LINK WILL BE SENT AT 7.pm THIS EVENING WITH NOTES ALSO ON HOW TO MAKE THE MOST OF EVENT!
REGISTRATION IS CLOSING AT 6.pm TODAY! THANK YOU.
DONATIONS WILL BE OPEN AGAIN FROM 9.pm 14th JAN UNTIL 21st JAN.
THANKYOU.
Dermot Whelan & Fiona Brennan are joining forces to help you set clear intentions for 2021 in the wellness webinar that will help you tap into your inner strength and wisdom.
Dermot is an award winning broadcaster and meditation teacher. Having trained in the US with a leading corporate stress managment expert, he currently works with Ireland's biggest companies in the wellness fields.
Fiona is a Clinical Hypnotherapist with a busy clinic in Dublin. She is a regular contributor to the media, a TEDx Speaker and the best selling author of The Positive Habit.
Combining the ancient art of meditation with modern positive neuroplastic training, mental rehearsals and hypnotherapy you will learn the techniques to find peace, purpose and clarity in a changing world.
The event is FREE and open to all but if you are in a position to do so please donate as all monies raised are going to:
Tír na nÓg an orphanage in Tanzania run by an amazing Kerry woman called Louise Quill who has created a home and not an instituition for the children who need her most.
&
A Lust for Life - A Lust for Life is a multi-award winning movement that uses content, campaigns and events to facilitate young people to be effective guardians of their own mind - and to be the leaders that drive our society towards a better future.