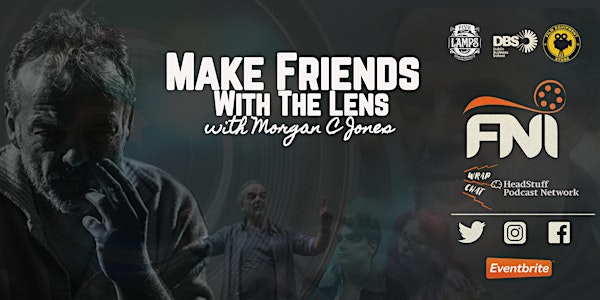 Make Friends with the Lens 2 with Morgan C. Jones
Self Taping and Acting for Camera
When and where
Location
Dublin Business School Balfe Street 5 Balfe Street D02 Y622 Dublin 2 Ireland
Refund Policy
Contact the organiser to request a refund.
About this event
Put Simply. Morgan C Jones is an Actors Actor.
One of the Hardest working Actors out there. Morgan has vast experience across different mediums, in Film, Tv, stand up, Improv, Audio performance and Theatre in Ireland.
Morgan will give an Acting for Camera and Self taping class with FNI at DBS for Actors who want to get the best possible results from a self taping and indeed Film opportunity.
Known for the Irish Oscar nominated film Detainment, playing the lead in the Dutch Feature film The Fox, Quantico and the upcoming Boys from County Hell. Further credits include The Bailout, playing Sean Fitzpatrick in the Feature the Gaurentee and featuring in Vikings, Ripper street and Game of Thrones.
Most Recently Morgan toured Ireland in Hamlet, Directed by Joe Dowling.
Morgan wears a number of hats very well and is one of the most recognised voices on Irish Radio and Tv for over 20 years.
Make Friends With The Lens
Make Friends With The Lens
Summary
A guide to Self Taping, Basic camera techniques, rules and shortcuts, and The Professional Working Environment
Objective: To provide a general overview of working on camera as an actor from the audition to the taxi home from set, covering:
SELF TAPINGBasic camera techniques, rules and shortcuts.
How to get the best from your sides.Self production and direction.Blocking eyelines.Learning linesThe Self Taping EnvironmentEquipment.Quick fixes/do and don'ts*Getting the best sound and light setup for your needs.Working with a reader/op.Working alone.Working awayPicking your takeEditing.Presentation.Delivery.The wisdom of doing a selftape before going into the room.What to expect in the roomThe importance of keeping reference and whyTHE PROFESSIONAL ENVIRONMENTWhat to expect.Pre-calls.Pre-production.Unit base.Location.The machine and where you fit."Setiquette".Building a portfolio and professional developmentShorts, students, indies and self
Morgan sat down with FNI Wrapchat a while back to chat about his career, Stand up and that time Jack Nicholson was in Galway.
https://www.headstuff.org/fni-wrap-chat/17-morgan-c-jones/