Get crafty with Carrie and have fun making your own musical instruments
About this event
Using recyclable household items and crafts, you will make a Rain Stick and Tom Tom Drum. Explore what these instruments can do, while singing songs. What you will need: paper towel tube, aluminium foil, paper bag, masking tape, craft/plain paper, glue, rice/popcorn kernels, markers/crayons, scissors, oatmeal cylindrical tube (not as thin as a Pringles tube), balloons (strong ones if possible) rubber bands (thick strong ones), ribbon (optional), beads (or stickers but both are optional), chopsticks (or pencils).
This work is supported by Dún Laoghaire-Rathdown County Council and funded by Creative Ireland as part of Cruinniú na nÓg 2021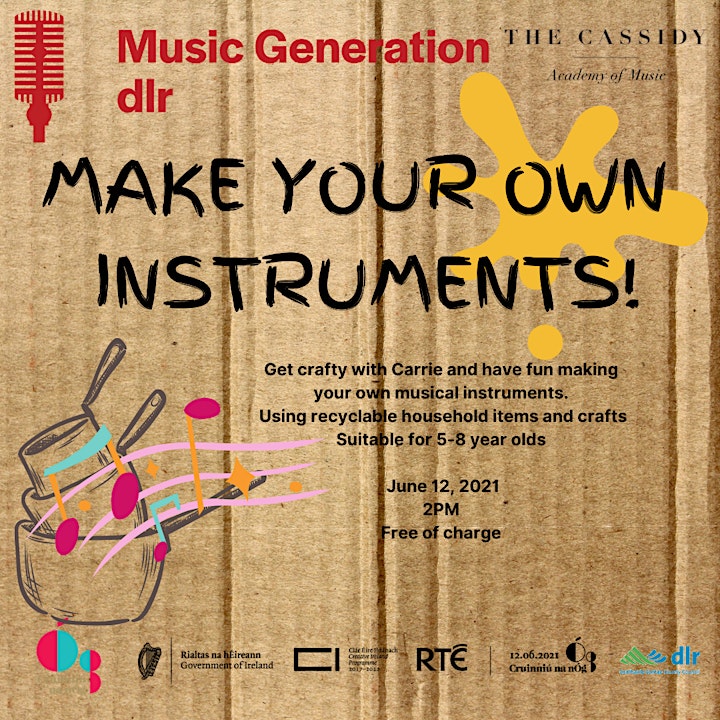 Organiser of Make your own Musical Instrument with Music Generation dlr
In September 2017, Music Generation dlr was selected for participation in Music Generation, Ireland's national music education programme initiated by Music Network and co-funded by U2, The Ireland Funds and the Department of Education and Skills and Local Music Education Partnerships. Locally, Music Generation DLR is managed by DLR Music Education Partnership (MEP), led by DLR County Council in partnership with Dublin and Dún Laoghaire Education and Training Board, TUSLA, Southside Partnership DLR, Blackrock Education Centre, IADT, UCD and Crosscare.