Event Information
Location
The Salmon Bookshop & Literary Centre
9 Parliament Street
Ennistimon
Ireland
'Making the Past Present' - Eddie Lenihan + Jonny Dillon
About this event
Idir Dhá Thrá is an explorative series of music/talks/performances/lectures which responds to the cultural, social and geographical area of North Clare. The events shall take place in the unique setting of the al fresco (outdoors) courtyard garden behind the Salmon Bookshop in Ennistymon. The series will bring together an interesting and collaborative collection of artists, storytellers, lecturers, musicians and poets who will each share from their field of expertise and experience on topics which will resonate with the local communities in North Clare. These series of events are supported by The Department of Tourism, Culture, Arts, Gaeltacht, Sport and Media and the Clare Arts.
For our fourth event, we welcome storyteller Eddie Lenihan and archivist and musician Jonny Dillon. This will be an opportunity to hear two of Ireland's most prominent voices in Irish folklore and tradition in conversation about the rich heritage and importance of Irish storytelling.
Eddie Lenihan is Ireland's most well known storyteller. He has been telling tales for over 35 years. As a cultural preservationist, Eddie has amassed the largest collection of folk stories and tales in Ireland. His dedication to the tradition has seen him collect and compile stories from all across the country, particularly those that deal with the themes of the supernatural, fairies and Irish lore. Eddie has had over 15 books published, with his most famous book Encounters With The Other Crowd being reprinted 7 times. He currently hosts the Tell Me A Story podcast and is working on a new book entitled Military Memories.
Jonny Dillon is a researcher and folklorist based in University College Dublin. He hosts and produces the Blúiríní Béaloidis podcast that examines tradition and folklore in Irish culture. Jonny has been been quietly exploring the musical landscape of the guitar for nearly twenty years. His album 'Songs For One String Guitar', released on All City Records, represents a private response to a variety of currents and inspirations both musical and emotional. While informed in large measure by the world of Irish Traditional music and song, along with that of the primitivism and the American Spiritual, his songs are equally a personal attempt to give expression to an inner landscape, from the experience of sorrow and loss to the promise of redemption and renewal.
Jonny Dillon will also perform his unique style of blues and folk on guitar at the event. Jonny's intricate playing and instrumental compositions will open and close our event on the day, and this is a rare opportunity to catch such a talented musician in such an intimate environment.
All Idir Dhá Thrá events will be held outdoors and everyone in attendance is reminded to abide by the Covid restrictions currently in place.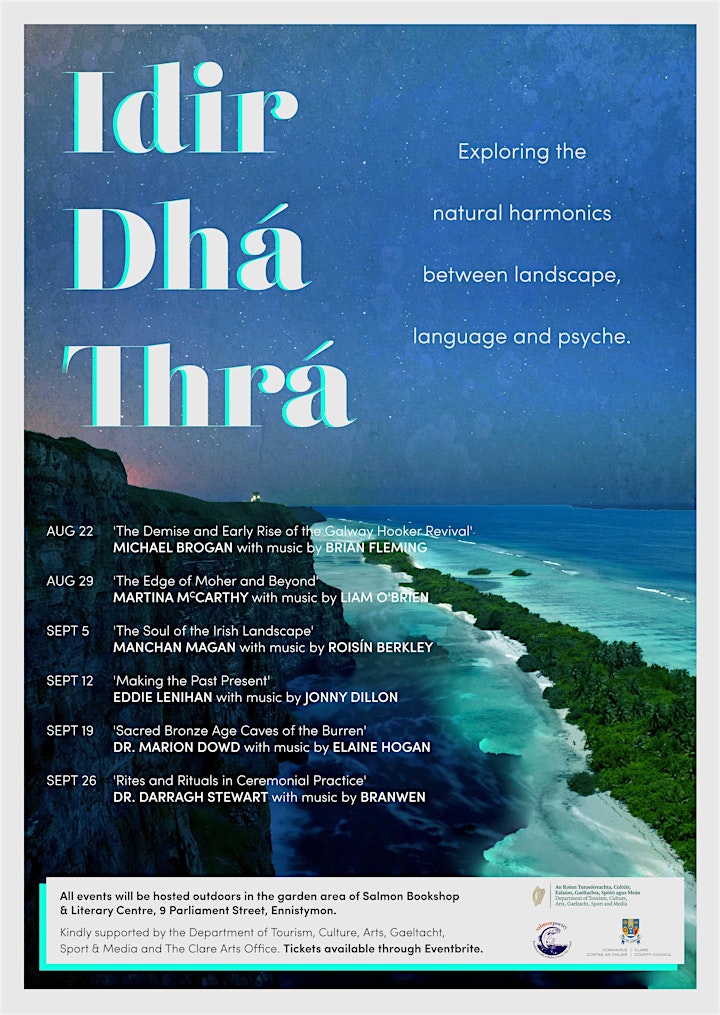 Date and time
Location
The Salmon Bookshop & Literary Centre
9 Parliament Street
Ennistimon
Ireland