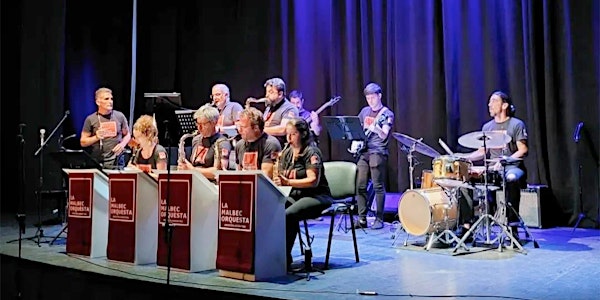 Malbec Orchestra / Argentina
11-piece band that covers the great classics of the Latin American bolero genre, adapted to the format of a Jazz orchestra
When and where
Location
Prulček - live music venue 2 Prijateljeva ulica 1000 Ljubljana Slovenia
About this event
The Malbec Orchestra from Argentina is an 11-piece band that covers the great classics of the Latin American bolero genre, adapted to the format of a Jazz orchestra and approached in the manner of the jazz standards of the swing era and naturally giving space to improvisation.
Bio:
The Malbec Orchestra of Argentina was born 5 years ago as a jazz nonet that addressed the themes of the golden age of swing. Little by little, he expanded his line up to 11 members and gradually added Latin songs and boleros to his repertoire with arrangements prepared especially for the orchestra and formed a wide exclusive repertoire of Latin American songs, especially Boleros, to present them on his first European tour in 2022.
Originally called "el Noneto" when it decided to make its European tour, the orchestra changed its name to "Malbec" in homage to the flagship wine strain of Argentina that became known throughout the world. In the same way, the orchestra hopes to make known another side of Argentine culture: its multifaceted music, since the musicians who composed the songs and boleros that have become world famous are Argentine.
The audience will take a journey through the vibrant and passionate music of boleros that sings to the joys and misadventures of love but in which they will also discover the harmonies, swing and improvisation of jazz.
Line Up:
Gustavo FIRMENICH - Direction, tenor sax and clarinet
Marcelo DIVEN - Voice.
Andrés ZETKO - Bass
Valentin RODRIGUEZ - Guitar
Laureano DALOIA - Drums
David GAGLIARDI - baritone sax
Alejandro SANSTEDE - tenor sax
Daniel GRANT - tenor sax
Romina BOCHICCHIO - alto sax
Miguel BENSADON - tenor sax
Andrés VELTRI - tenor sax