Multiple Dates
Managing diverse groups effectively - Horse-assisted leadership course
Description
Challenging diversity
Is this normal? What is normal? In order to navigate through differences within your groups for sure, you'll be dealing with challenges related to communication, judgement, unconscious bias, openness and more. Explore more how can you succeed as a leader in managing diverse teams effectively!

From meeting room to stable
Get a fresh perspective with this powerful experience that takes you out of your comfort zone so you can improve as a leader and learn to empower effective collaboration within your team.
How does it work?
Interaction with horses + self-reflections (guided questions / facilitation) + practical tools

This is a learning by doing method balancing experience based and cognitive learning. We are facilitating change through exercises with horses which inspire participants to find solutions in situations where they can't rely on their usual routine.

We are building on the Gestalt-method which works with self-awareness through observations without any judgement. Questions and self-reflection will support participants to explore more about themselves, their perceptions, relationships and personal influence on others.
The program is not about horse riding or horsemanship, therefore you won't be sitting on a horse but interact with them from the ground.
Personal power inside out
In our view, every person is a leader as we need to manage ourselves before we get to lead others.Self-awareness is the first most important steps in the leader's journey which requires discoveries from personal experiences and feedback from others in order to explore opportunities to become a better leader.
Increased level of self-awareness just as much as the ability of active listening and giving feedback is very much needed to manage diverse groups effectively.
Benefits
Unlock hidden potential
Get a fresh perspective on how to manage diversity
Identify blind spots and opportunities
Walk away with great inspiration and tangible learning outcomes
Why horses?

Horses are herd animals with an extremely well developed social life and sophisticated communication abilities which makes them the perfect partners to become co-facilitators of the program. They react in real time, in an honest way without second thoughts. Collaboration among horses is a matter of survival which means that they would only respond to powerful yet sensitive leaders who they trust.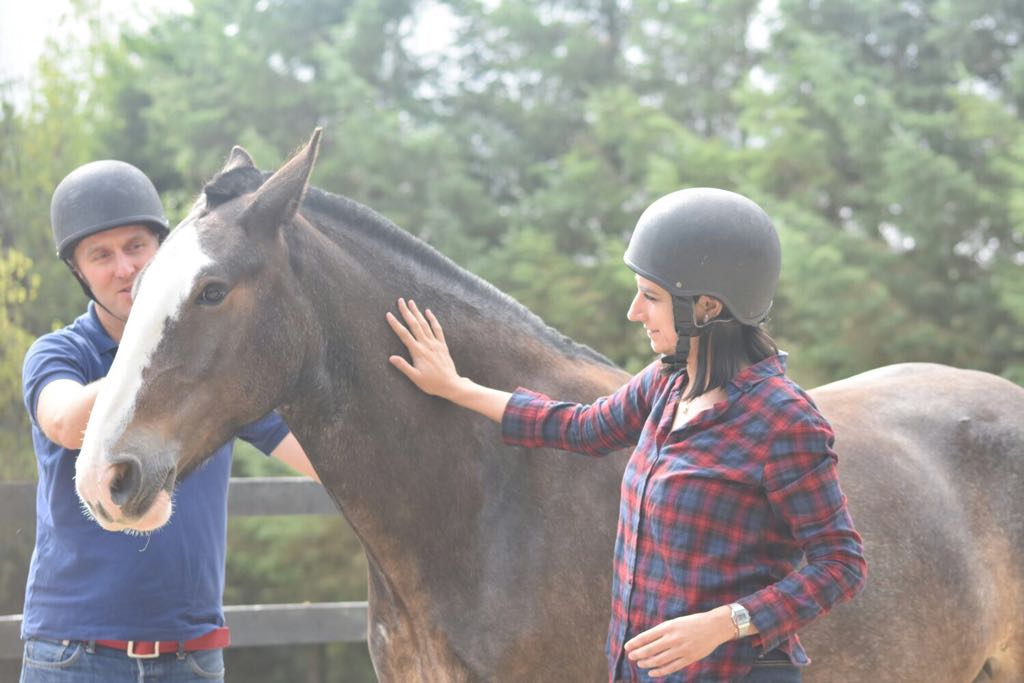 Trainers:
Our trainers are highly qualified and have a unique combination of experience in the corporate sector and horsemanship.
Marcel Szabó - PCC certified coach (International Coach Federation)
In his 10 years of professional experience with more than 2 000 hours of executive coaching and hundreds of business training, he found that shared values and personal responsibility are key factors to handle change with a positive impact. He works with leaders and management teams from multinational and medium-sized companies, such as Lidl, Coca-Cola, IT companies.

Sinead Sheehan - Business & Executive Coach, Level A & B Psychometric Testing Certified

After 15 years forging a successful career in Marketing and Project Management she changed her professional career to become a Coach in 2012. Today, she works with Executives, Managers, Entrepreneurs and people in transition. She focuses on creating sustainable behavioural change, embracing diversity, cross-cultural coaching and developing emotional intelligence. Her speciality is to enable clients to not only reach their current goals but to equip them to achieve their new potential and future goals on their own.
Important information:
The training will contain outdoor elements which require adequate – safe and weatherproof - shoes and outfit.
Please note that the program is designed for small groups, therefore places are limited.
The venue for the program is the Country Cottage Stables, conveniently located close to Dublin, just off the N11 in Enniskerry, Co. Wicklow