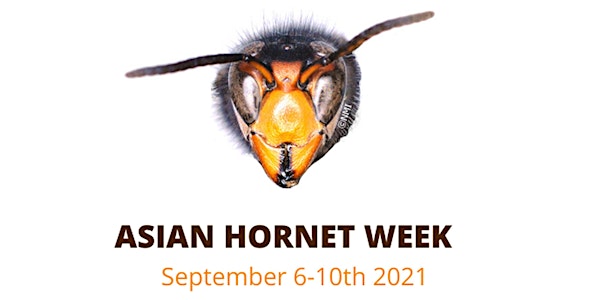 Managing the threat of the Asian hornet in Ireland
Join Atlantic Positive for an introduction to managing incursions of the Asian hornet in Ireland.
About this event
Event Details:
Atlantic Positive is delighted to host the first Asian Hornet Week webinar event in Ireland, where we will be joined by a representative from the National Biodiversity Data Centre (NBDC), The Department of Agriculture, Food and the Marine (DAFM), and the National Parks and Wildlife Service (NPWS).
The purpose of the webinar is to give an overview of how Ireland is tackling the threat the invasive Asian hornet, a known predator of honeybees and other pollinators. We will hear about what early warning and monitoring systems are in place and what response actions are taken when a hornet is reported. Each presenter will give a 10-minute talk, followed by a 20-minute Q+A at the end.
Please note the entire event will be recorded and posted online at a later stage. Booked attendees will receive an event reminder email and link closer to the event.
To book a place for the live broadcast of this talk and Q&A, please visit Eventbrite.
For more information, please email rhayden@ucc.ie
Speaker Information:
Colette O'Flynn is an Invasive Species Officer with the National Biodiversity Data Centre. She manages the National Invasive Species Database, provides coordination of invasive species data and information, and contributes advice and policy support at the national and European level.
Declan Harty is an Agricultural Inspector within DAFM's Horticulture and Plant Health Division, Beekeeping and Honey Section. He is involved with this year's Sentinel Apiary Programme and additional Asian hornet monitoring.
Dr Brian Nelson is an Invertebrate Ecologist and Project Officer at the National Parks and Wildlife Service.