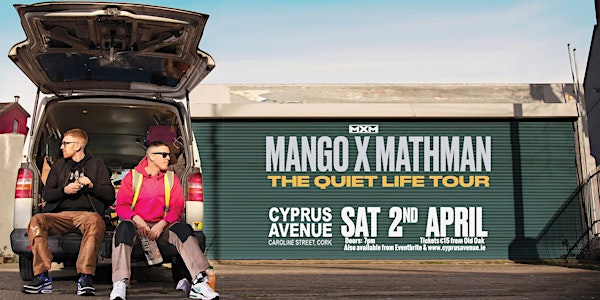 When and where
Location
Cyprus Avenue Caroline Street Cork Ireland
About this event
Steeped in Dublin's rave culture, and at the vanguard of Ireland's burgeoning hiphop scene, Mango X MathMan's rise is a tale of resistance, resilience, and wrecking the gaff.
From grime anthems such as Badman, to one-night-only pirate radio broadcasts with No Surrender FM, from the bar-raising Wheel Up EP, to the spoken word profundity of Bread and Butter, the diversity of Mango X MathMan's musical output is matched only by their ambition. It's a drive that is quickly bearing fruit, with the duo excelling in a multitude of settings; notoriously energetic festival performances, basement raves, warehouse parties, and above ground, remarkable performances at Ireland's National Concert Hall, and at the Barbican Theatre in London.
Their critically acclaimed debut album, Casual Work (2019), became an instant hometown classic, with the album's lead single, Deep Blue - featuring the Mercury Prize-nominated Lisa Hannigan - voted the number one song of 2019 by The Irish Times. A sold out national tour for the album in 2020 culminated in an already legendary show at the 39/40 club on the edge of the Liffey, right before lockdown rendered the city a blank slate, on which they will inevitably paint new scenes and new futures.