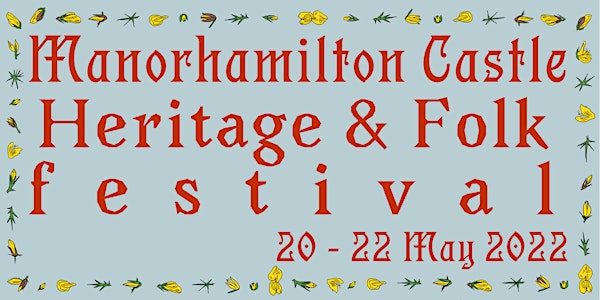 Manorhamilton Castle Heritage and Folk festival 20
We are delighted to present 'Manorhamilton Castle Heritage and Folk Festival' this May!
When and where
Location
Fulacht Fiadh Cafe Skreeney road F91 NTT2 Manorhamilton Ireland
About this event
Taking place in Manorhamilton Castle, Fulacht Fiadh Café and the surrounding gardens from Friday 20 - Sunday 22 May this festival will highlight Leitrim's rich cultural heritage with music, workshops and performances by some of Leitrim's finest traditional, folk and experimental performers and historians. .
PROGRAMME OF EVENTS
FRIDAY EVENING - 20 May
Jenny put the Kettle On - Part I - 8PM
Vincent Woods will host an informal chat and tune session with prominent North Leitrim and donegal singers and musicians Rosie Stewart, Paddy & Eugene Gilroy over a cupán tae. This will be a live recording for the Jenny put the Kettle on Podcast. Curated by Edwina Guckian.
SATURDAY - DAYTIME EVENTS - 21 May
Edwina Guckian will host a workshop on the Mumming tradition in Leitrim - 12 - 3PM
Participants will make a straw hat as part this interactive workshop.
Manorhamilton Heritage Society will present a talk on Manorhamilton Castle and will host tours of the castle throughout the weekend. Talk - 4 - 5pm
Tours of the Castle will take throughout the weekend
SATURDAY - EVENING CONCERT - 21 May - 7PM
Performances by:
Tara Boath Mooney and Diarmuid MacDiarmada
Tara will perform a musical piece with Diarmuid MacDiarmada. This work started as an idea with Aengus Friel Lawrence, who was artist in residence at the Leitrim Sculpture Centre through July / August 2021.
The piece is being constructed through a combination of field recordings made inside the Castle, recordings of stone mason Des Cullen working within the castle walls and music made with Diarmuid Mac Diarmada in response to these field recordings.
Martin Brunsden and Branwen Kavanagh
Leitrim multi-instrumentalism Martin Brunsden will perform a collaboration with Clare based musician and singer Branwen Kavanagh. The pair have collaborated in the past and are excited to come together to explore a new collaboration specifically for the festival focusing on traditional music and song
Leitrim Mummers
Edwina Guckian, Brian Mostyn, Fionnuala Maxwell & Ryan Owens will play traditional music and dance derived from the Leitrim Mumming tradition. This will be a traditional set that includes dance and play.
MASI Sligo collaborative performance
Donal O'Kelly will facilitate a collaborative performance of music and dance with Leitrim and Sligo based musicians and performers- focusing on both Irish and international traditional dance, song and story telling culture.
SUNDAY EVENTS - 22 May
Connecting communities - through Irish: as part of Across the Lines (IFI supported) programme.
Musical Walking Tour of Manorhamilton - 10.30AM
(In Irish with English) by Prin Duignan and Dee Armstrong.
A Talk on the Townland Names of Fermanagh and Leitrim - 12.30 - 1.30PM
by Seosamh MacMuírí (In Irish with English).
Across the Lines is in collaboration with with Across the Lines (IFI supported)programme, The Glens Centre & Fermanagh Omagh District Council)
Splodar Afternoon Concert - 2 - 3.30PM
Local Irish Language theatre group will host an afternoon performance and a pop up Gaeltacht on Sunday afternoon at the Manorhamilton Castle. This will include poetry readings in Irish, traditional music and song and a [pop-up Gaeltacht where participants at with all levels of Irish are encouraged to speak as Gaeilge.
Jenny put the Kettle On Part II - 4 - 6PM
Vincent Woods will host an informal chat and tune session with prominent North Leitrim singers and musicians John Hamilton & Seán Farrell and Frank & Pat Fox over a cupán tae. This will be a live recording for the Jenny put the Kettle on Podcast. Curated by Edwina Guckian Singing Session with Guest Fionnuala Maxwell - 7 - 9PM
The festival will close with a Singing Session Hosted by Fermanagh singer Rosie Stewart with Special Guest Fionnuala Maxwell with a focus and an exploration of Leitrim song.
Weekend and Day Tickets available.
Limited Availability for the talks and workshops below - you can reserve your slot for these in the ticket section. These reservations are free but must be additional to a purchase of a Weekend of Day Ticket:
- Mummers Workshop
- Jenny Put the Kettle on Part 1 & 2
- Musical Tour of Manorhamilton
This event is kindly supported by the Leitrim County Council and The Department of Tourism, Culture, Arts, Gaeltacht, Sport and Media.