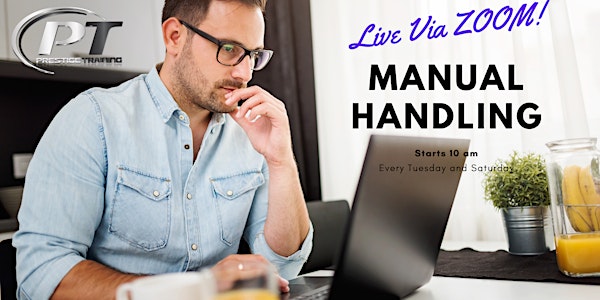 Manual Handling Course Galway Live Online Assessment | 24 hours - 7 days
Get Certified Properly Today and Stay Legally Compliant now available 24/7 Duration: Approx Less than 1.5 hours Online
About this event
Please ring Michelle on 087-7950282 if you need any assistance.
Get Certified Properly Today and Stay Legally Compliant
Duration: Approx Less than 2 hours Online Click HERE NOW to Book
Duration: Approx Less than 1.5 Hours
Call 087-7950282 to Book !! CLICK HERE
Live Tutor Led Online Classroom Tuition Via ZOOM
Just Enter ID Code that you will receive via e-mail
Complete your Manual Handling theory 24/7 Online, and complete your Live Assessment via Zoom from the comfort of your own home and reduce down the classroom and travel time by up to two hours.
The Manual Handling Course is Deliverd and Assessed by a Fetac/QQI qualified trainer which is recommended by the HSA, on successful completion you will receive a 3 year certification in after the course ends.
Please Note: HSA Require that you MUST be Assessed by a QQI/FETAC Instructor
We can send a tutor to your workplace just call!
Workplace assessments T&C apply
Please Be Aware: They are Manual Handling Courses Online that will Not Meet HSA Standard Requirements.
Starting: Now Call 087 7950282
One on One Time slots will be given in Booking Order for Practical Demonstrations
Certificates are issued the same day and are valid for 3 Years
PPE: Gloves and Face masks supplied Must be worn if attending on site courses
COVID 19 Risk Assessment in Place.
>>>>>>>>>>>>>>>>>>>>>>>>>>>>>>>>>>>>>>>>>>>>>>>>>>>>>
Manual Handling Training Course Subjects
Manual Handling - introduction and definition
Structure and function of the human spine
Causes of back injuries
Prevention of back injuries
Ergonomic aspects of manual handling
Lifting skills - theory and practice
Reducing manual handling injuries
Current legislation, EU directives and statistics
Manual handling quiz/assessment
Programme summary Learner Outcomes
Understand the structure and functions of the human spine
Understand the main causes of back injuries in the workplace
Know the main causes of soft tissue injuries and cumulative strain
Have learned the correct posture for sitting and standing
Have learned the correct skills and techniques for lifting materials/equipment safely
Be able to identify and eliminate the causes of strain and injury in their workplace
Understand current legislation, and employer/employee responsibilities
DURATION: 2 Hours
PARTICIPANTS: 12 per class
VENUE: ZOOM ONLINE TRAINING CLASSROOM
CERTIFICATION: Lasts for 3 Years
PRICE: Call Michelle 087-7950282
If you have a query regarding any of our courses, please do not hesitate to Contact us
by E-mail: prestige.training@yahoo.ie
or Call: 087-7950282
Who Should Take This Manual Handling Training Course? The manual handling course is aimed at all levels of employees who may undertake manual handling operations, including the transporting of a load of items by lifting, putting down, pushing, pulling, carrying or moving thereof by hand or by bodily force. This includes, but is not limited to, professions such as:
Warehouse and factory staff
Heavy manual labourers
Unloading and loading of vehicles
Construction and building site workers
Office workers
Delivery drivers
Farmhands
Manual Handling accounts for 33% of Accidents reported to the Health and Safety Authority. Manual handling includes the use of the human body to lift, lower, fill, empty, or carry loads and also includes climbing, pushing, pulling, and pivoting, all of which pose the risk of injury to the back. The load can be inanimate (an object) or animate (animal or person) and manual handling injuries occurs in most industrial sectors including manufacturing and warehousing, retail, construction, transportation, agriculture and the health care sector.
​
​