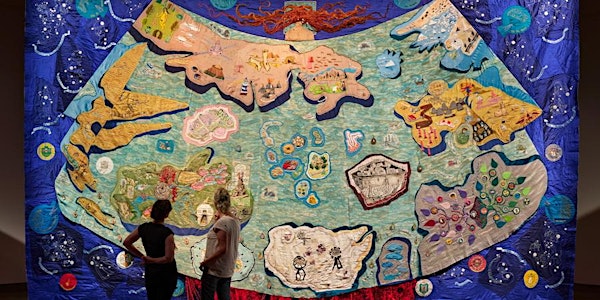 'Mapping the Magdalene' talk with Alice Maher and Rachel Fallon
Artists Alice Maher and Rachel Fallon will discuss 'The Map' - a collaborative textile work
When and where
Location
Hugh Lane Gallery Parnell Square North D01 F2X9 Dublin 1 Ireland
About this event
'Mapping the Magdalene', talk with Alice Maher and Rachel Fallon
Sunday 23 October, 2pm
We are delighted to have artists Alice Maher and Rachel Fallon at the Hugh Lane Gallery to discuss their monumental, collaborative, textile work The Map, which is on display at the Hugh Lane Gallery from 18-30 October. The Map was originally exhibited at the Rua Red Gallery earlier this year, as part of the gallery's ongoing Magdalene exhibition series. Free, book here or come on day subject to availability.
Rachel Fallon is a visual artist who deals with themes of protection and defence in domestic realms and addresses the topic of motherhood and women's relationships to society. Her work encompasses sculpture, drawing, photography and performance and is firmly rooted in the processes of making. As well as an individual practice, she regularly collaborates with other artists and collectives; including The Artists' Campaign to Repeal the Eighth Amendment, Desperate Artwives, Grrrl Zine Fair and the Magdalene Series. The two disparate ways of working feed into one another and are therefore equally important parts of her practice. Her work is held in public and private collections including the Arts Council of Ireland Collection, The National Museum of Ireland and Muzeum Sztuki Nowoczesnej w Warszawie. She lives and works in Ireland.
Alice Maher is one of Ireland's leading contemporary artists. Since the 1980's her work has been working within the realms of nature and culture, subversion and transformation, mythology and memory. Her work involves many different media including painting, drawing, sculpture, print, photography and installation. Maher is a prominent figure in the feminist movement in Ireland. She was one of the founding members of the Artists' Campaign to Repeal the Repeal the Eighth Amendment. Her work is exhibited in the Bones in the Attic exhibition.
As part of the Hugh Lane Gallery's diverse education programme in tandem with the exhibition Bones in the Attic, The Map, a monumental textile sculpture created by artists Alice Maher and Rachel Fallon is on display at the Hugh Lane Gallery from 18 October to 30 October 2022. With its own continents, winds, currents, and constellations, The Map draws the viewer in, inviting a reorientation. Its richly worked surface is an epic Mappa Mundi where the structures and languages of cartography are used to imagine and re-imagine the life, legacy, and mythology of Mary Magdalene and her impact on women's lives. An alternative topographic and psychic landscape is uncovered in this witty, complex un-picking of the established narrative of Mary Magdalene.
Image: by Ros Kavanagh, courtesy Rua Red