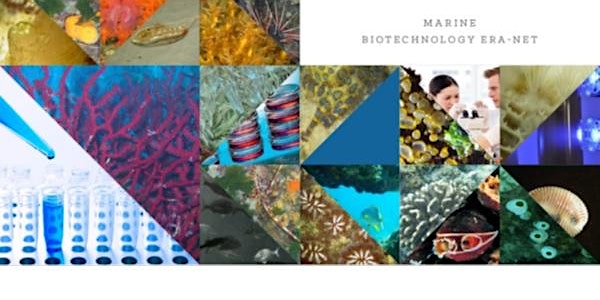 Marine Biotechnology ERA-NET 2nd Joint Call INFO DAY
When and where
Date and time
Fri, 22 Jan 2016 11:00 - 15:00 GMT
Location
Marine Institute Rinville #Marine Institute Oranmore Ireland
Description
An information day on the second ERA-MBT call will be held on Friday the 22nd January
CALL FOCUS
The general call focus and limitations of the call are discussed in detail in the Call text at www.marinebiotech.eu/second-transnational-call
Information will be provided by the following speakers:
Dr. Ciaran Kelly - Marine Institute Office of Research & Development
Dr. Dermot Hurst - ERA-MBT Member

AGENDA TO FOLLOW

GENERAL SCOPE
The biodiscovery process exploits the diversity of organisms found in marine environments in ways which enable new materials and/or processes to be identified. Typically the process involves a series of steps spanning from the collection of materials to the refinement of materials with bioactive and other useful properties. There are many known uses for marine origin bioactive materials, including as components in pharmaceuticals, nutraceuticals, functional foods and ingredients, nutritional supplements, cosmeceuticals, cosmetics and personal care products, horticultural stimulants, animal feed, biomaterials, and as a source of enzymes with potential in bioremediation and bioprocessing.
By exploring the bioactivity in organisms from the oceans; including from fishery and aquaculture activity, or materials which result from the processing of marine organisms, scope exists to further explore the potential of these to provide compounds that offer chemical diversity and biological potency of value in meeting the needs of society.
In seeking to identify bioactive compounds with potential applications, applicants are required to focus their research on biological materials obtained from one or more of the following sources; culture collections, biobanks and repositories that are held within institutions/companies; from fishery or aquaculture activity; marine biomass processing by-products and waste fractions; and biological materials collected from the foreshore (coastal areas between the limits of low and high water.
Applicants are required to restrict their research to the identification of bioactive compounds and other useful properties that offer commercial potential and which are derived from available materials as described above
TIMELINE

Official Call Opening: 1 December 2015
Deadline for Submiting Proposals: 16 March 2016
Peer Review Panel Meeting: 6, 7 July 2016
Communication of Funding Recommendation: September 2016
Starting Date of Projects: End of 2016 /Beginning of 2017

BACKGROUND
The Marine Biotechnology ERA-NET (ERA-MBT) is a consortium of national funding agencies seeking complementarities between national activities by pooling resources to undertake joint funding of transnational projects in the area of Marine Biotechnology. The activities will support the development of the European bioeconomy.
During the life-time of the project, three thematic calls will be launched to generate joint European research and development activities in marine biotechnology.
The Marine Biotechnology ERA-NET (ERA-MBT) is funded under the European Commission's Seventh Framework Programme. Grant Agreement Number 604814 | December 2013 - November 2017