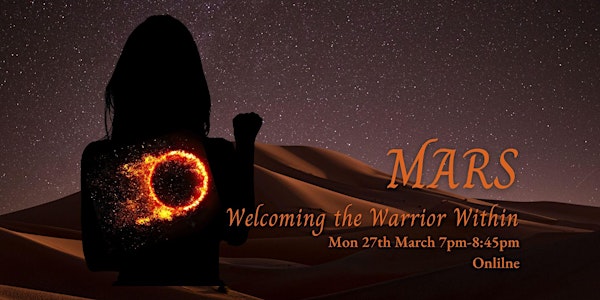 MARS - Welcoming the Warrior Within
Build self-confidence, assertiveness and empowerment through working with the MARS archetype.
Date and time
Mon, 27 Mar 2023 11:00 - 12:30 PDT
About this event
- Explore your personal expression of Mars through Mars in your birthchart
- Embrace new assertiveness, clarity and confidence
- Understand personal blocks and inhibitions to power and assertiveness
- Guided journey to discover your personal power totem for keys to welcoming your inner warrior
This workshop will explore the energy and patterning of the Mars archetype both generally and how its potential is held personally in each participants natal chart. The Mars archetype represents assertiveness, daring, confidence, courage, fight and the survival instinct. He is the archetypally masculine principle and the warrior of the Cosmos. Unlocking Mars means unlocking our ability to unapologetically go for what we want, to stand up for ourselves and act on our instincts.
Through our exploration we will gain a deeper understanding of what might be blocking our personal power and what might support us in being able to welcome this fiery aspect of our nature more fully into healthy expression in our lives.
How Mars might express itself through the birthchart of participants will be discussed during the workshop and participants are encouraged to share feedback of how they experience their Mars principle during discussion to the extent they feel comfortable.
Before this workshop you will need to send on your birth information – time, date and location of birth so that I can research your Mars placement in preparation for this workshop.
Places are limited to 7 to allow for an intimate, safe space and to ensure that each individual has time to receive personal astrological insights.
Booking closes one week prior to the event because of the need for preparation time for each individuals' chart.
Individuals of all gender identifications are welcome.
About the organiser
I'm an accredited Psychotherapist and an Astrologer in training, with a passion for the healing and empowerment available in embodiment and spirituality. I will be organising events that connect people with their Spiritual Selves to allow space for more Soul guidance through embodiment, astrology, guided journeys and experiential exercises supported by psychological insights. My events will bring together the personal realm of Psyche with the Transpersonal realms to allow for deeper connection with our own Souls and greater openness of heart and mind to the love and support available to us.