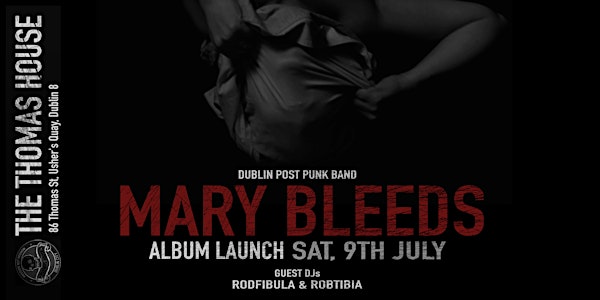 Mary Bleeds (Album Launch - Dublin Post Punk band)
The Dublin post-punk band Mary Bleeds will be launching their homonymous debut. Guest DJs Rodfibula & Robtibia (Dance to the Underground).
When and where
Location
Thomas House 86 Thomas Street Dublin 8 Ireland
About this event
Mary Bleeds will be playing their debut in its entirety and a some new songs that should feature on their follow up album.
"With this brilliant release, the enigmatic and heavily charged Mary Bleeds explore themes of patriarchy, misogyny, and religious brainwashing via aural channels echoing Sisters of Mercy, Bauhaus, the Virgin Prunes, Siouxsie and the Banshees, The Birthday Party, and Joy Division. In keeping with their sonic influences, the album was recorded live to analogue tape, which gives them that sonic je ne sais quoi. You don't know WHEN they were recorded – they certainly sound like a fuzzy memory in a smoky, dark club: the discovery that the band is barely two years old makes their sound even more astonishing.
Delving deeply into the psychological traumas of Catholic theocracy, Mary Bleeds exorcises long-buried demons with explosive poetry channeling, hurtling, through Guilherme's deep, emotional voice. This is an album of rage, contemplation, meditation, and unblocking the long-damaged root chakra." (Alice Teeple, Post-Punk.com)
"Mary Bleeds' debut album is a powerful introduction to an exciting new band with a multi-layered sound and complex psychological dynamic." (Bob Smith, Static Dive)