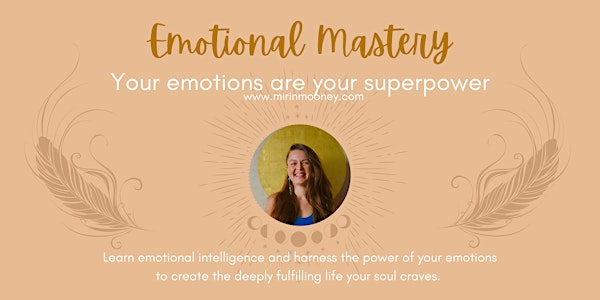 Master Your Emotions
Harness the power of your emotions to create the deeply fulfilling life your soul craves
Refund Policy
Contact the organizer to request a refund.
About this event
Are you ready to take control of your emotions instead of letting them be in control of you?
Then let's talk about emotional intelligence.
Your emotions are your superpower: signals from your body communicating essential information. Yet none of us are taught this. None of us are taught how to interpret those signals or how to express them in a healthy and beneficial way. It's time to change that.
This workshop is for you if:
You've started your healing journey and are doing the inner work to help you become a happier and more empowered version of yourself
You know that something needs to change and you're ready.
You feel like your emotions are out of control
You don't understand your emotions
Your emotions come out in explosions at others, or perhaps you self-implode and turn against yourself
You've struggled with your mental health in the past
If you are here then you are clearly ready to do the inner work so you can implement the change that you seek. To end the confusion and overwhelm and instead learn to navigate and express your emotions in a healthy way. To harness the power of your emotions to help you thrive, instead of letting them tear you apart.
In this workshop you will learn:
The power and complexity of emotions
What is emotional addiction (& how to overcome it)
Practices to navigate difficult emotions
What your emotions are communicating
The different types of emotional maturity
The different ways to regulate your emotions
How to use the nervous system to control your emotions
How to reveal unconscious trauma patterns that are stunting your emotional growth
Your emotions are always communicating essential information to you, yet most of us are never taught how to listen, or how to express them in a healthy manner. By repressing them you don't solve anything, in fact you create more problems as they start to show up in unconscious manners, thus becoming out of our control. Learning to listen, understand and harness that power of your emotions will benefit you in all areas of your life: work, relationships, health, and overall happiness. You will show up more gracefully, and life will flow with more ease. In many ways the modern western world stunts our emotional growth, which is unsustainable, so it's up to us as individuals to change that - in so doing inspiring others to do the same a creating an alternative and better world we all know is possible.
Includes:
1-1.5 hour workshop
Workbook
1 month access to workshop recording
1 month access to group forum for questions and support
A transformational experience
If you want discounted access to all three empowerment workshops you can get tickets here!