Event Information
Refund Policy
Refunds up to 7 days before event
About this Event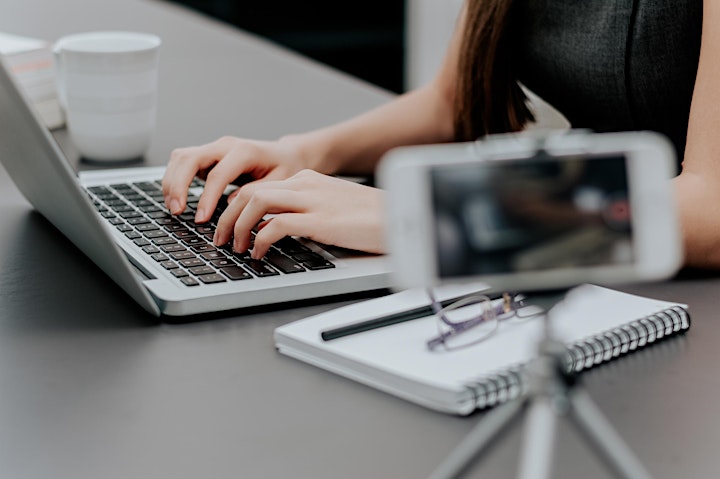 Masterclass in Camera & Editing Skills
Live Online Two-Day Workshop
In this live online interactive workshop, you'll learn the basics of making simple professional-looking social video - as well as techniques around specific types of content, like thought-leadership, demos, tutorials, interviews and everything in between
You'll also learn to edit video with the same principles and techniques used in television.
But you won't just learn technical skills.
We'll give you the editorial insight to tell a story really well, and the ability to further enhance it.
You'll be able to film and edit your own video content to an excellent standard, with easy apps and software that you can start using straight away.
This is expert training delivered by broadcast professionals.
Who is this course for?
Anyone interested in learning how to film and edit simple social video for business.
Marketers, entrepreneurs and solopreneurs, will get game-changing skills from this intensive course.
The workshop is specially designed for beginners, who want to get professional results from tools that work.
What do I get?
Practical training with tools that you can use straight away
The most up-to-date video marketing information
Industry examples and real-life tips
Great group sizes (10 seats) for maximum attention
Tried and tested reference materials
A digital badge is awarded on course completion
What will I actually learn?
1. THE THINGS THAT WILL CATCH YOU OUT
The three enemies of filming - power, storage and hazards!
2. EQUIPMENT
Learn what accessories you need to shoot great video, and get our tried-and-trusted recommended gear list.
3. USING VIDEO APPS FOR FILMING WITH YOUR PHONE
Here we'll show you how to get excellent results from just your smartphone, using leading camera apps.
4. UNDERSTANDING COMPOSITION
How is it that some videos look professional and others don't?
Normally it's not just a question of technical standards, but of good composition.
Here's where we reveal the mysteries! (They're not that big:)
5. MAKING THE CUT
This is the 'scissors section'! We'll show you the correct ways to cut a clip.
6. ADDING CUTAWAYS
Cutaways are the pictures that tell your story without words. You'll learn how to use them to advantage.
7. ADDING MUSIC
We'll give you sources for cost-free copyright-free music to add to your videos. And we'll show you how to add music so it's technically correct.
8. ADDING TEXT AND GRAPHICS
Critical for social video: subtitles and on-screen text. We'll show you how to use brand fonts and generate on-brand end-boards.
9. EXPORT
Find out the optimum settings for exporting your finished piece.
...AND A WHOLE LOT MORE BESIDES!
What equipment do I need to take this course?
You just need your smartphone and a laptop, both ideally not more than three years old - and where you can actually see your desktop underneath all the folders :)
We'll let you know the apps and the free editing software to download as soon as you're booked in. They work on iOS /Android and PC/Mac, and they're awesome.
If you have concerns in advance of your booking, just drop us a line at info@gomotionacademy.com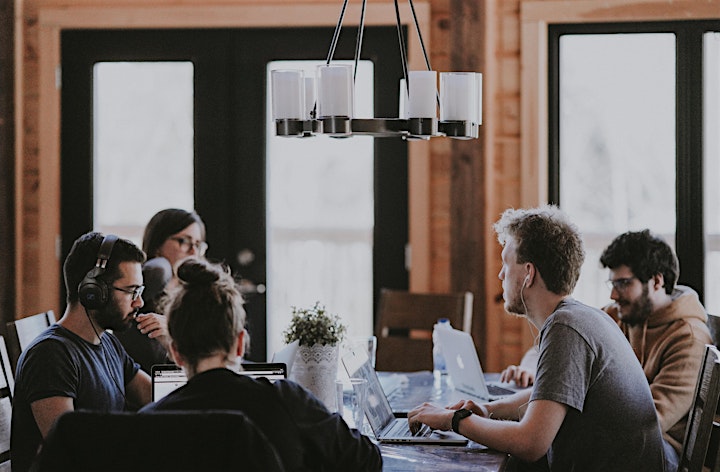 Why choose Go Motion Academy?
Practical solutions - we'll give you the tools and skills to get started right away. No waiting for procurement!
Our track record - we've worked with the marketing teams of some of Ireland's biggest companies.
High standards - we push you to get your best results, both technically and editorially.
Cutting edge info - We constantly update our material to reflect video marketing trends. If it's happening online, it's happening in the training.
Takeaways - you'll get step-by-step guides to keep you on track once you're out in the field.
Small class sizes - Classes are limited to 10 participants for maximum attention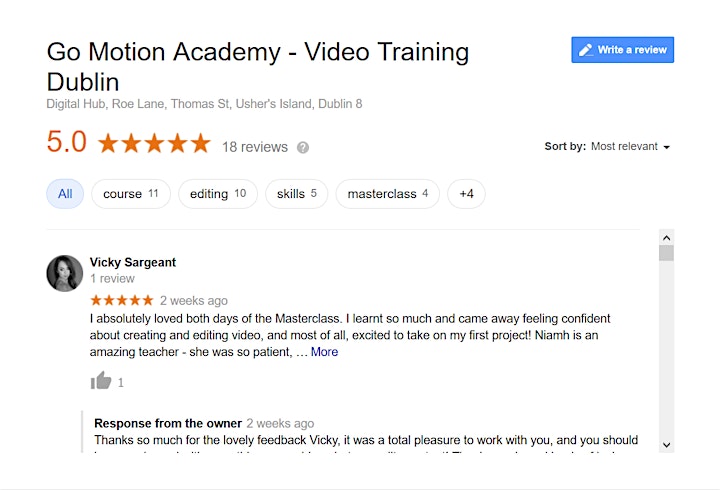 Would you like to up-skill a team? We can do a bespoke online training course.
Get in touch at info@gomotionacademy.com
Fees can also be paid by invoice when required.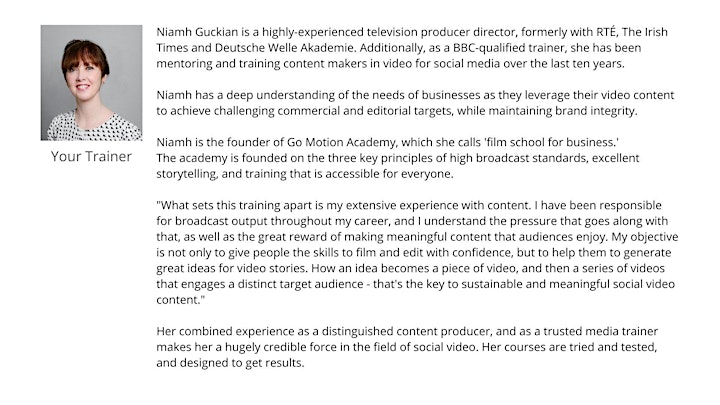 Date and Time
Refund Policy
Refunds up to 7 days before event