Masterclass on creating more interactive workshops for your organisation. F...
Description
Performance Partners are delighted to announce RSVP Design Ltd, specialists in designing innovative experiential learning tools, are visiting Dublin to introduce you to new experiential learning activities and techniques. This workshop is specially tailored to meet the needs of learning and development professionals.

This powerful workshop will be an opportunity to experience a variety of practical, engaging resources and to consider the impact of current research on your learning design and training delivery.
During our one-day workshops we will:
Remind you of the principles of effective learning design and relate these to new insights emerging from neuroscience and the growing understanding of 'learning to learn'

Give you practical experience of a variety of different types of activity that are used to achieve a wide range of learning objectives, with case study examples of how they have been used in client organisations

Explore creative ways of reviewing and de-briefing activities to ensure that the most important and relevant learning is drawn from the experience

Offer advice about choosing and using specific tools to meet your current L&D challenges

Help you to understand how to sequence activities so that there is skills transfer from one activity to another, increasing the 'stickiness' of the learning and improving the chances that the insights and practice from the training will transfer into real behavioural change in the future
The Dublin sessions will be hosted by Peter O'Connor from Performance Partners Ltd and will run from 1000 - 1600.
About RSVP Design
RSVP Design Ltd are specialists in designing, creating and delivering learning activities and events that use experiential learning methods and techniques. Our expertise has enabled us to create a wide variety of practical resources for personal, team, management and leadership development and these tools are now known and respected in organisations all round the world.
Our learning design is built upon sound research and current best practice and stems from a deep understanding of how people learn. Our activities are intended not just to raise awareness of learning themes and topics but also to provide safe 'rehearsal grounds' to experiment with new behaviours and develop new attitudes and ways of thinking. In the process of working with these activities we are also developing the learning skills of participants, enabling them to become more confident and independent learners.
Our learning resources are used internationally in corporate learning departments, universities, business schools and colleges, government and public sector departments, small businesses and the charitable sector. As the initials of our name implies, the tools are Relevant, Practical, Versatile and Simple to administer and are intended to be integrated into your existing programmes and events - with as much or as little support as you need from RSVP Design experts!
About Ann Alder of RSVP Design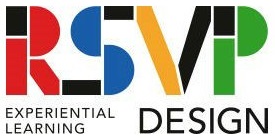 Ann is an internally recognised specialist in (softskills & leadership) trainer training for many years. She has developed the training and facilitation skills of L&D professionals, teachers and operational managers. She is one of the founders and owners of RSVP Design, an internal provider of trainer tools and materials.
Ann has a wealth of experience in leadership, management and team development training, as well as executive coaching and group facilitation. She enjoys working with multi-cultural groups, and her recent projects have involved extensive travel, much of it to work with RSVP Design's partners and build the skills of trainers.
Ann is responsible for the content of RSVP Design's facilitation support materials and the creation of new experiential learning products and programmes.
About Peter O'Connor of Performance Partners

Peter is the Managing Director of Performance Partners Ltd who are a Diamond Award Winning Wiley Authorised Everything DiSC & Five Behaviours of Cohesive Teams Partner.
Peter has over 25 years business experience, with a track record in business spanning 3 decades, working in ICT, Education and with experience working with high profile clients in the public, private and not for profit sectors.
Peter has many years training and facilitation experience, having worked with the Ken Blanchard Leadership partner in Ireland for 5 years. His methods focus on assuring he only address key client's needs, with an ROI focus. Peter's training style is facilitative, and encourages self-discovery, whether working with teams, managers or leaders.
Please register your interest below and a member of Performance Partners will get back to you. Lunch is included in the cover fee. For more information please contact peter@performancepartners.ie