Sales Have Ended
Ticket sales have ended
Ops! you've missed this one! You can check my website to find more about the next workshops I'll be hosting at www.lauradevidesmakeup.com/online-workshops
Sales Have Ended
Ticket sales have ended
Ops! you've missed this one! You can check my website to find more about the next workshops I'll be hosting at www.lauradevidesmakeup.com/online-workshops
Learn how to make the most out of the makeup you already have by creating a day to night look that makes you feel empowered and confident .
About this Event
I know, we are all in need of some good time so why not grab some bubbles, your makeup bag and join us?!
In this workshop you're going to learn how to make the most out of the makeup products you already have by creating a day to night look that makes you feel empowered, confident and great about yourself while having a good time using The Natural Glam Method.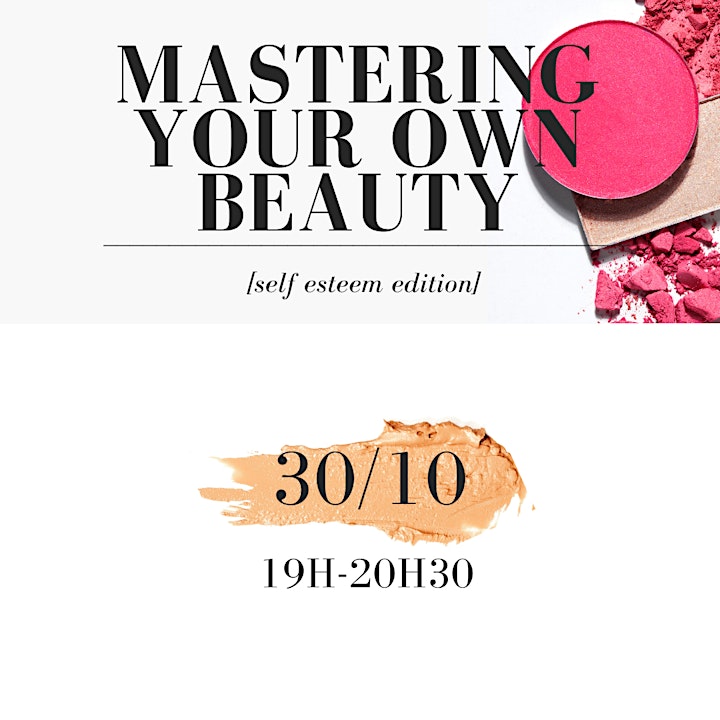 Who is it for: If you are someone that has makeup products sitting there and you don't really know how to use them to their best potential on you, then this workshop is for you.
If you are someone who has minimal products, but you would like to improve your game, this workshop is also for you.
If you are someone who would like to improve your self esteem, and self confidence, so you can feel ready to go get what you deserve - whether it be a career change or getting out there onto the dating scene, whatever your heart's desire, then this workshop is definitely for you.
This workshop is not for professional MUA's.
Duration: 1h30~1h45
Location: This is a group workshop held live online via zoom. Meaning I will be there in real time to answer your questions - (you'll get the link via email after completing your purchase)
How many people can attend: max 10 people per workshop so I can give the attention each one of you deserve.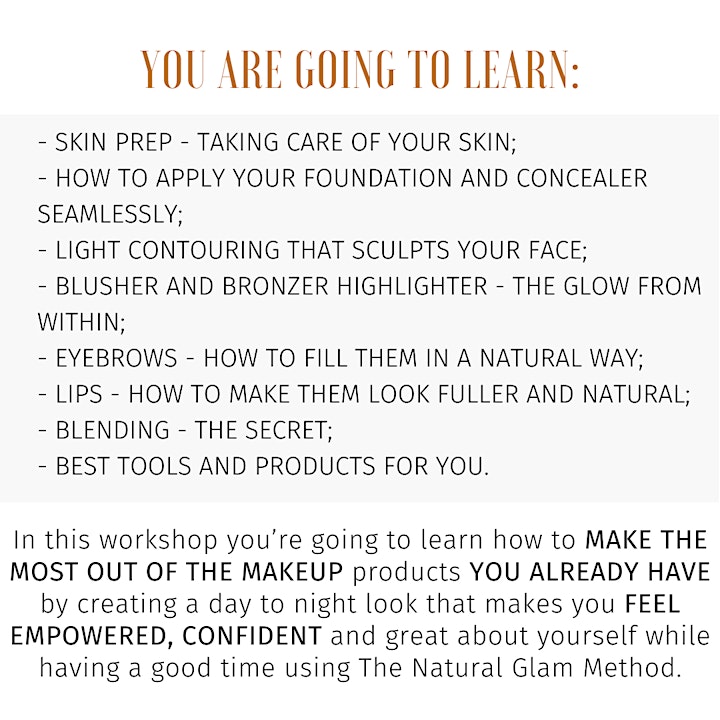 Content:
Taking care of your skin ;
You'll be guided by me, while I'll show you step by step how to create a Natural Glam Day Look and you'll replicate the look in yourself after me;
I'll also show you step by step how to change the day look to a night Glamorous look;
Real time feedback;
Live Q&A
Access to the recording of the workshop for 3 months;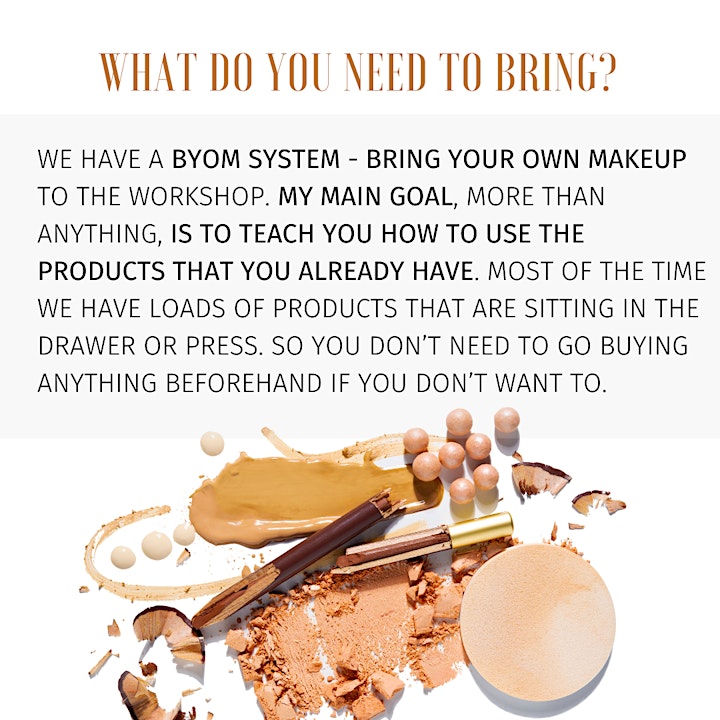 Materials:
It's good to have a cleanser, moisturizer, foundation (or any type of tinted moisturizer, flawless filter, bb cream, cc cream), concealer, blusher, bronzer, eyeshadow (browns and golds, rose gold), gel liner or eye pencil, lipstick, lip liner, mascara, some brow product (it can be gel, pencil, pen, eyeshadow - they all work) contour (powder, cream, darker foundation they all work as well).
What I want you to know is that you will be able to create a look with what you have. Trust me.
The beauty of the Natural Glam Method is that you're going to find out that most products are multipurpose and you'll learn how to make the most out of each product.
Level: Beginners
Investment: €50 + processing fee
Click below to SECURE YOUR PLACE NOW.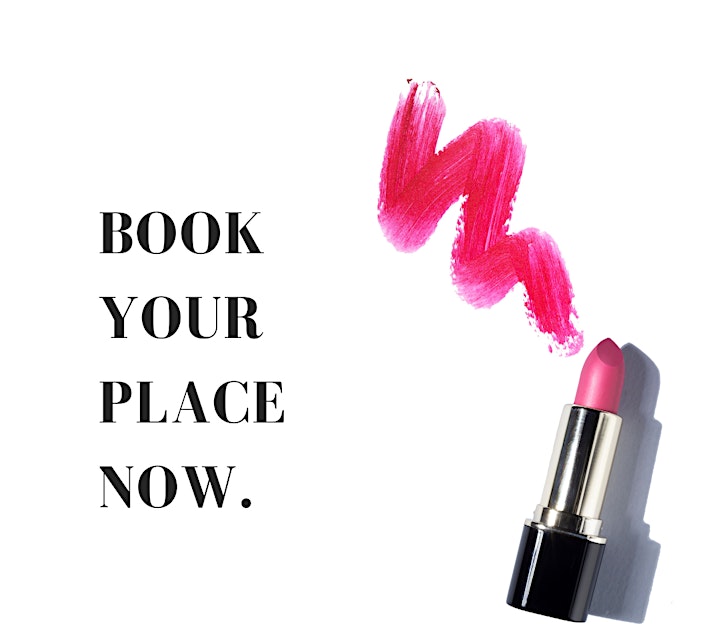 How Am I? I'm Laura Devides and I've been a makeup artist for more than 10 years now. I have an uncompromising devotion to make women feel good about themselves. I grew up in a town in the south of Brazil surrounded by amazing women doing their makeup and relocated to Ireland in 2014. My work is definitely inspired by those real women enhancing their natural beauty. My passion has brought me on the path of travelling the world - 14 countries and counting, and I am looking forward to getting back on my travels - so I can continue my journey of finding beauty within different cultures and ideas. This has allowed me to collect and experience textures, tones and colours, from across the globe in my search for beauty inspiration and education.
Upon arriving in Dublin my natural glam style captivated the attention of some of the best salons in town. I've worked with Dry & Fly and Dylan Bradshaw as well as being named a Makeup Artist of The Year 2019 Finalist by Weddings Online. I've also been featured in The Gloss Magazine, Irish Country Magazine and The Gloss Magazine Online.
I've built up a broad ranging experience working with a multicultural clientele of all ages. By now I have lost count of all the women that I've had the pleasure of working with as clients over the past 10years. Something that never ceases to amaze me is that no matter how beautiful or young, or poreless a woman is, she always finds something negative to say about her appearance . As a makeup artist I know for a fact that there is nothing that hair and makeup cannot do for a woman's confidence.
Inspired by a conversation with my girlfriends, I decided that I wanted to share with women that they own the power to their own beauty. I don't believe that it is right, that something as sacred as being able to feel good about oneself can only be in the hands of others. We all have the power to unlock our own beauty and inner confidence.to start sharing with women how they can have the power to their own beauty.
We all should have the tools ourselves to be able to feel good about ourselves whenever we want. Not only on special occasions. Not only when we can afford the time and the money to see a makeup artist. You have the right to your own beauty, you are entitled to feel good about yourself, every single day! Makeup is the tool and I am here to help you.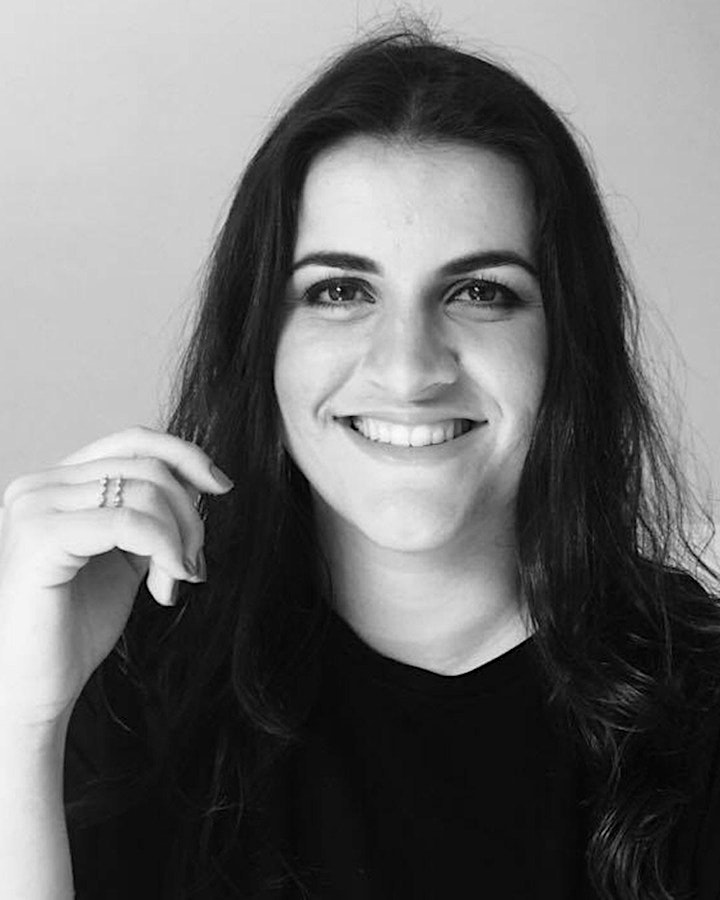 Date and Time
Location
Refund Policy