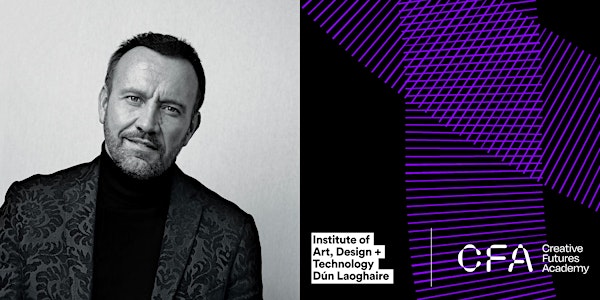 Mauro Porcini, Chief Design Officer of PepsiCo in Conversation at IADT
IADT + Creative Futures Academy present Mauro Porcini, Chief Design Officer of PepsiCo in conversation with Sonya Lennon.
When and where
Location
National Film School, Institute of Art Design + Technology Kill Avenue A96 KH79 Dún Laoghaire Ireland
About this event
IADT and Creative Futures Academy are delighted to host, Mauro Porcini, a global champion for design thinking and design-led innovation in business. As Senior Vice President and Chief Design Officer at PepsiCo, he has been instrumental in driving innovation and integrating human-centred design principles across the company's portfolio.
In conversation with designer Sonya Lennon, Mauro will discuss the central themes of his new book The Human Side of Innovation and explain that the "key to real, world-changing innovation is the ability to identify individuals who have the mindset of "unicorns." These human-centred individuals combine vision and execution, innovation and productivity, and kindness and optimism to create meaningful solutions for actual human beings..."
---
This breakfast event* will take place at the National Film School at IADT.
8.00am Continental breakfast
8.30am Talk
9.30am-10.15am Networking & book signing
*Please note this event will be recorded for future broadcasts.
About Mauro Porcini
Mauro Porcini is PepsiCo's first-ever Chief Design Officer. He joined the food & beverage corporation in 2012. In this role he is infusing design thinking into PepsiCo's culture and is leading a new approach to innovation by design that impacts the company's product platforms and brands. His focus extends from physical to virtual expressions of the brands, including product, packaging, events, advertising, fashion and art collaborations, retail activation, architecture, and digital media. He leads a global network of teams based in New York City, Purchase, Dallas, Chicago, Los Angeles, Orlando, Miami, London, Dublin, Moscow, Il Cairo, New Delhi, Shanghai, Bangkok, Mexico City, Sao Paulo and Cape Town.