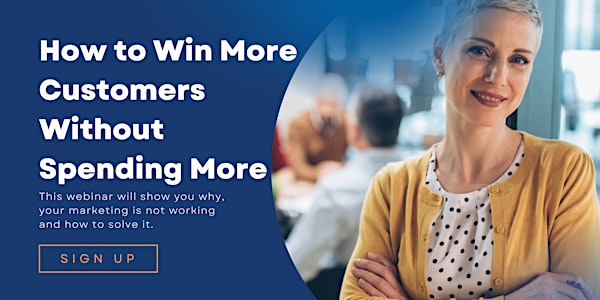 May Webinar | How To Win More Customers Without Spending More On Marketing
Learn how to acquire high quality leads, increasing conversion without investing more money and time in your marketing efforts
About this event
Are you tired of spending endless hours and money on activities that don't deliver the results you need?
...Unfortunately there isn't an "EASY BUTTON" for attracting customers at your will, however our proven framework, applied consistently across all your communications, will drive more customers, without you spending any more.
Small businesses tend to believe that to be successful they need to follow what larger companies are doing. However, they are completely unaware that there are simple, easy-to-implement cost-free strategies they can use right now, to not only stabilise their revenue but to also see significant increases in their lead generation, sales and profit.
In our webinar, we'll show you the secret to winning more customers, growing sales and making more profit, without breaking the bank (or your back):
Takeaways from the session:
#1: Marketing Mistakes To Avoid
#2: Clarifying Your Value Proposition
#3: Framework To Craft Messages
#4: How To Reduce Friction
#5: Strategies to Attract More Customers
All these strategies are simple yet powerful and once you're aware of them, you can take these simple steps to get set for success!
Plus, all attendees will get FREE access to our Marketing eLearning System
Our speakers:
Susana Marambio: Susana is an international marketing leader with more than 20 years experience creating and implementing strategies to drive growth in multinational companies across industries like pharmaceutical, technology, distribution and retail.
Susana is passionate about helping small business, start-ups and entrepreneurs build their businesses through: Identifying Growth Opportunities and providing a Personalised Roadmap with Strategies, Tactics, Prioritisation, Timelines & to deliver their business objectives
Andrew Walker : Andrew is an experienced marketing and sales strategist and career coach, who supports businesses to identify areas for improvement, to align their business goals and to deliver on their strategic objectives.
Andrew has over 25 years' experience working at senior level in multi-channel international companies across Europe. Andrew is passionate about driving change and leadership development, as well as being smart with business resources and creating an environment to drive personal and professional growth.