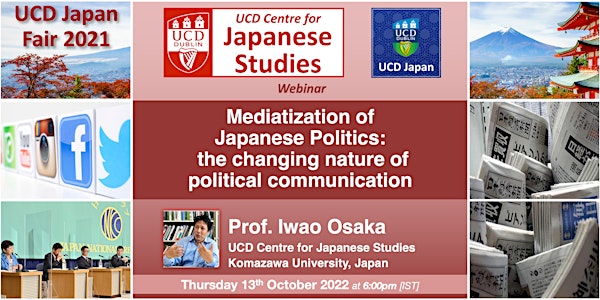 Mediatization of Japanese Politics
Mediatization of Japanese Politics: the changing nature of political communication
About this event
Speaker: Prof Iwao Osaka, Associate Professor in Japanese Politics, Department of Political Science, Komazawa University, Japan
Chair of the Session: Mr Paul Murphy, RTÉ Prime Time
--- This is a Hybrid Event ---
Face-to-Face: O'Brien Centre for Science - Lynch Th F [Room 1.37]
Online: EventBrite Zoom Link [also an email will share a link on the day]
Biography:
Prof. Osaka is Associate Professor in Japanese politics at the Department of Political Science, Faculty of Law, Komazawa University, Tokyo and the Director of the Komazawa University Institute for Journalism and Policy Studies. [see]
He specialises in political communication. His research is concerned with how political parties and elected officials communicated with the general public in the post-World War II era after Japan became a democratic country with a parliamentary cabinet system enshrined in its new constitution. He published a book on the changing nature of political communication in Japan from the 1950s to the 2000s, entitled Japanese Politics and the Media (⽇本政治とメディア). It was published by prestigious Chūō Kōron, Tokyo, 2014.
The book deals with the era of television penetration in Japan. Political communication shifted from being dominated by organisations, such as political parties, agricultural associations or trade unions, to mass media, with television playing a significant role.