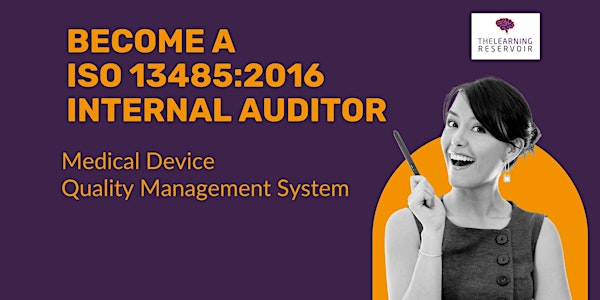 Medical Device Internal Auditor Training - ISO 13485:2016 (2 Days)
Internal quality auditor training to the medical devices management system standard ISO 13485.
Refund Policy
Contact the organiser to request a refund.
About this event
Strong auditing skills are essential in the medical device industry. Delegates will gain the knowledge of how to assess compliance with ISO 13485:2916 after successfully completing this course.
ISO 13485:2016 specifies requirements for a quality management system where an organization needs to demonstrate its ability to provide medical devices and related services that consistently meet customer and applicable regulatory requirements. Such organizations can be involved in one or more stages of the life-cycle, including design and development, production, storage and distribution, installation, or servicing of a medical device and design and development or provision of associated activities (e.g. technical support)
This practical and interactive 2-day ISO 13485:2016 internal auditor training course enables delegates to interpret the requirements of the ISO 13485 medical devices standard from an auditing perspective, and to conduct effective audits. Delegates will learn the principles and practices of effective quality management systems (QMS) process audits in accordance with ISO 19011:2018.
ISO 19011:018 provides guidance on auditing management systems, including the principles of auditing, managing an audit programme and conducting management system audits, as well as guidance on the evaluation of competence of individuals involved in the audit process.
Learning Objectives
On completion of this training, participants will be able to:
1. Understand the relevant elements and clauses of ISO 13485:2016.
2. Understand the practice of internal auditing.
3. Understand the responsibilities of auditors and lead auditors.
4. Plan and conduct an audit in accordance with ISO 19011, demonstrating ability to plan and prepare effectively.
5. Gather objective evidence during the auditing process.
6. Use effective interviewing techniques.
7. Evaluate the evidence gathered during the auditing process to determine conformance with regulatory and procedural requirements.
8. Evaluate the significance of audit findings.
9. Determine if corrective action has been effectively implemented.
10. Write a factual audit final report.
11. Understand how to follow up on audit corrective actions.
Schedule for the Course
The schedule for the course is in the Detailed Course Specification that can be found here.
Who Should take this Course
Personnel in the organisation with responsibility for conducting internal audits
Personnel responsible for supplier / external audits
Personnel new to auditing and have been asked to conduct internal audits
Internal Auditors without 13485:2016 audit training
Internal Auditors with only 9001 training