Event Information
Location
City Hall (outside West door, on Cork Hill)
2 Cork Hill
Dublin 2
Ireland
Description
Our Medieval Walls Walk is a complete circuit and exploration of the medieval walls of Dublin, both in a physical sense, and as an exploration of the walls in the imagination; through conversation, story and historic detail.
Once a palisade of wooden stakes erected from 841 by Dublin's Viking founders, and later rebult as thick, high stone walls by the Anglo-Norman conquerors, the walls delineated and defined the the city for generations of medieval Dubliners. Citizens of the city felt their reassuring presence, as they limited, protected and defined a sense of place for centuries.


Meeting from 2:20pm, outside the West door of City Hall on Cork Hill (directly across the road from the Dublin City Council Rates Office) then starting at 2:30pm sharp. We will walk a complete circuit of the ancient city walls, whether currently visible above ground or not.
We will follow their route along castle walls, down backstreets and side lanes, as the wall appears, disappears and reappears again, using maps, historic accounts, tell-tale street names and physical clues in the present city landscape to guide us along our way.

Along our route we will consider towers and gates, prisons and bridges, fires, plague, invasion and revolution. We'll see the impact on the modern street plan, and contemplate how it helped shape the current-day city of Dublin.


Please buy tickets well in advance. But please, check your own availablilty before booking as it's difficult and sometimes almost impossible, to effect refunds. We charge a 40% fee on refunds for cancellations made 7 to 21 days before the tour. Alternatively we offer a credit for another tour. Please note there are no refunds, or tour credits, for cancellations made less than 7 days prior to the tour.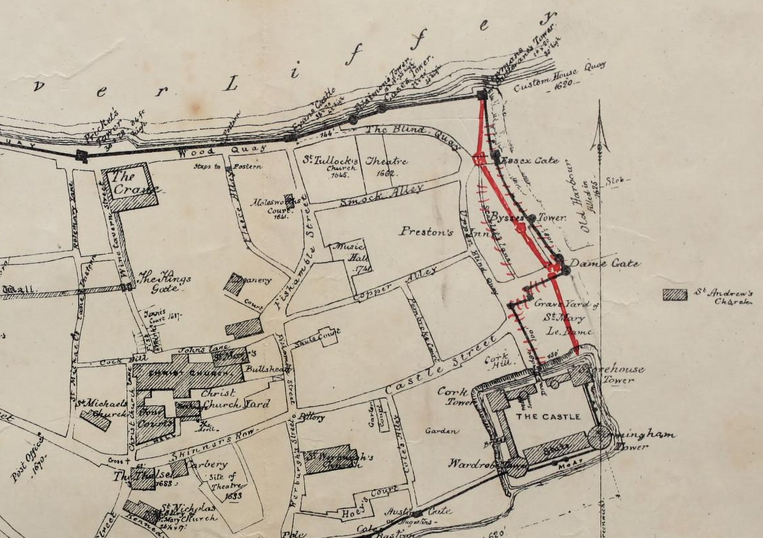 Date and time
Location
City Hall (outside West door, on Cork Hill)
2 Cork Hill
Dublin 2
Ireland
Refund policy