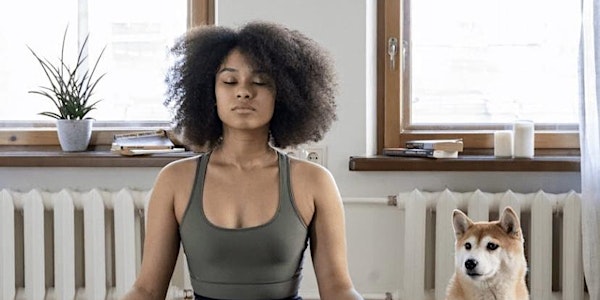 Meditation and Mindfulness One day Retreat.
New to Meditation? - Current practitioner looking to delve deeper? This retreat will provide the space to explore your body and mind.
Date and time
Sun, 20 Aug 2023 10:00 - 17:00 IST
Location
Community Well, Lambay House Ballisk Court Donabate Ireland
About this event
Meditation and Mindfulness One day retreat.
For those who are new to Meditation, this retreat will provide the space for you to explore your body and mind.
Or
You might be a current practitioner looking to delve deeper, perhaps you have questions about your practice, are looking for new ideas or want to reignite a practice that has dwindled.
Throughout the day, we have a series of short meditations. Through discussion and reflection, we will look at different techniques to help you in your Meditation and being Mindful in your life. This involves practical and theory sessions.
Meditation Trouble shooting; How to sit, how to deal with pain, how to deal with a busy mind. Things that come up in your Meditation practice.
Explore these techniques in a non dogmatic way and find practical ways to bring Mindfulness and Meditation into your daily life.
Find practical ways to bring Mindfulness and Meditation into your daily life & you don't have to sit on the floor!
You will leave with the confidence to begin your Meditation journey, you will have a number of different techniques in your Meditation toolbox allowing you to choose which one suits you best for any Meditation session.
10am. Arrive, registration and settle in to start your retreat. Opening circle, introductions.
10.15am Starting out your day with a Guided Meditation Session.
10.15am -1pm.
Meditation discussions and practical sessions.
1.00pm – 2.00pm Time for lunch, chat with your fellow meditators and allow for some digestion and relaxation!
2pm Silent journalling session.
2.15pm -5pm Continued Meditation discussions and practical sessions.
5pm. Finish.
Please don't attend if you have been asked to self isolate by a doctor or quarantine by a local public health official, you are feeling unwell or have a fever, you have tested positive for COVID-19.
FAQs
Is there parking at the event?
Free parking is located outside the venue- allow time to find a place.
Arrival and regsitration.
This event starts at 10am. You may arrive 15 mins before hand to register and settle in.
This is to ensure events start on time.
Please be on time - late arrival will result in no admittance and no refund.
This is out of respect for everyone in attendance already focusing on their practice.
A full refund will be issued if a workshop is cancelled. If you can not attend a workshop that you have booked - you can not transfer payment to another date. However you can get somebody else to fill your place & you must let me know in advance.
All bookings are subject to Booking conditions - full details, Class etiquette and Faq's can be found here.
What to wear and what can I bring into the event?
Dress comfortably, wear stretchy or non restrictive clothing. Bring a Yoga mat & eye mask if you have one, a notebook & pen to journal or take notes.
Bring some blankets, some cushions for support and anything you need to help you be cosy and comfortable. A bottle of water, an open mind & no expectations!
Yoga mats will not be supplied at events. Other Yoga props can be supplied at events for clients but for your complete safety and ease of mind it is recommended that you bring your own. If you don't have your own yoga bolster and would like to borrow one from the studio - please bring 2 x pillow cases to cover it. If you need a yoga mat I have limited stock to purchase.
Bring anything else you'd like to have with you to make yourself more comfortable – including if you like….. your chosen tea and a cup with a closable lid to have at breaks.
Is it ok for beginners to attend? Yes – whatever your level – you are welcome!
Things you need to know
Food is not included in the retreat price to give you maximum flexibility, depending on where you are travelling from, so that you may make your own arrangements according to your taste and budget. If eating out - please research your preferred options in Donabate village to ensure that you have enough time in your lunch hour to go there, eat and get back within an hour.
You will have access to hot water as the studio has a kettle if you want to bring your own lunch. You may also want to bring some snacks in case you get hungry. Make sure your food is easily digestible and not too heavy. The only thing I ask here - is something bland smelling please - things like fish or eggs will stink the room out and linger!
Places are Limited – so early booking is advisable.
Acccesibility and diversity.
At events you will be warmly welcomed.
You will be treated with kindness & respect.
Everyone deserves to be treated equally and with respect. This is a fundamental, core belief of mine.
This event is for a small group with limited numbers, to ensure individual attention.
In terms of accessibility – I must inform you that this event is taking place on the first floor. There is a flight of stairs to climb to access the room. Chairs can be provided for anyone who would prefer their use instaed of sitting on a bolster.
This venue does not have a lift- so this room is not accessible to all.
If you have any questions or suggestions about supporting your accessibility or individual needs with feeling safe and secure to practice, or other – please don't hesitate to get in touch and let's chat!
How can I contact the organiser with any questions?
Use the contact form on my website holisticlife.ie/contact/
About the organiser
Mission
To facilitate people to question and examine their own lives and for them to try and get more balance in their life - whatever that means - for them. I'm not here to preach or judge - it's about each individual journey. I hope to provide a space for self reflection, self compassion and self realisation.
About
Life is difficult- but we are not on our own- even though it feels that way sometimes.
holisticlife hopes to provide a platform for thought, inspiration, motivation and just a little pick me up!
Company overview
holisticlife was set up in order to help people live a balanced life.
Check out the website holisticlife.ie