Come Visit Santa When his Train Stops at the Irish Military War Museum. We know it will be a magical snowy evening.
About this Event
Come and meet Santa Claus when he stops on his special Christmas train at the Irish Military War Museum and Family Fun park. Wander through the indoor ice tunnel, pick up some treats like Granma's homemade cookies and make your way out to the Christmas village where you can see the elves working away getting ready to stock Santa's sleigh. Make your way through the snowy scene – Yes we guarantee there will be snow no matter the weather – check in on the Christmas stable with our Christmas Donkeys Holly and Ivy not forgetting their sheepish friends.
Make a wish and place it on our wishing tree and hopefully, it will come true maybe even on Christmas morning. See Santa's sleigh getting loaded and ready to leave but before that, you have to meet the main man himself Santa in his specially adapted Train Station grotto – you can see his train parked outside.
Tell Santa what you are hoping for this Christmas but be careful he might know more about you than you think! So be extra good over the next few weeks!
A gift from Santa for every child.
Running time:
Expect to be at the event for 1 hour, you are welcome to grab a hot chocolate or treat from our Christmas treat shop and stay a little longer
Tickets & Pricing: We need to create family pods of between 4 and 6 people for the event to run safely and efficiently with reduced numbers as a result of Covid 19. For this reason we have a minimum of 4 and a maximum of 6 in a family pod booking.
Family Ticket:
You must have a family of 4 ticket to enter the event! This ticket can be used for 2 adults 2 children, or 3 adults and one child. The cost of this family ticket is €60 + booking fee. A family of 2 or 3 are still welcome to come if they buy the €60 ticket for up to 4 people. We are encouraging people who have less than 4 to invite people from within their family or social circle to join them.
Extra Tickets:
Once you have the €60 family ticket in your basket you are welcome to buy an extra 2 children, 2 adult tickets or 1 adult and 1 child ticket, Please don't go over 6 people in total as this may be a Covid 19 restriction in December. (Each extra child over two children requires an extra child ticket)
Extra Adult Ticket (Please note, you must purchase a €60 family ticket to avail of these extra tickets): €12.00 + booking fee once you are purchasing a family of 4 ticket also.
Extra Child Ticket: (Please note, you must purchase a €60 family ticket to avail of these extra tickets): €18.00 + booking fee once you are purchasing a family of 4 ticket also
Vouchers: To pay or partial pay with an Irish Military War Museum Voucher Please call the museum on 041-9819501 and we will arrange to book your tickets over the phone.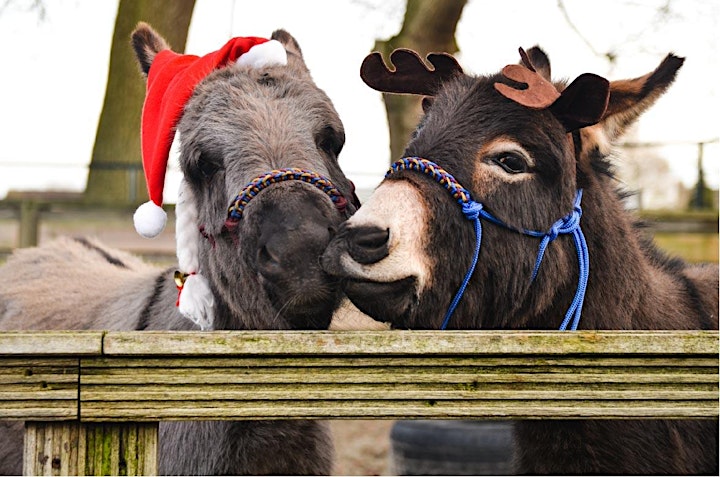 Important information:
This is a partly outdoor event but mainly undercover where 2-metre social distancing can be maintained between family pods. Dress warmly, it may be cold but you will not get wet if it is raining during the event. We have a socially distanced one-way system in place for the whole event, start to finish. Your family pod will be kept away from other family pods at all times. Please follow signage, ground markings and staff advice at all times. All equipment handled is sanitised after each family use.
Our Staff: Staff will either be behind screens, have masks on or will not be within 2 meters of any customer.
Hand Sanitiser: Hand sanitiser units will be in placed throughout the premises and easy accessible, please use!
Wheelchair Users: Wheelchair access is available.
Travel restrictions: We are hopeful the government will lift the travel ban between counties for December. As we don't yet know what travel the restrictions will be in December we can only guarantee families from Co. Meath will be allowed to travel to the event.
Please note: If you choose to buy tickets from outside the County of Meath, you do so at your own judgement & risk. No refunds or vouchers will be given if the event can still go ahead but you can't travel to it as that may cancel the event on all the families who can attend.
If the event is cancelled completely you will have a choice of taking a voucher for 110% of your tickets or we will offer a full refund.
Ticket Scanning: Please have your printed tickets ready or tickets open on your phone screen ready for scanning on the way in to the event.
Queuing and waiting time: You may have to wait between 1 and 20 minutes to start your activities after signing in but once you start there are no additional queues
Covid 19: If anyone in your household is showing symptoms of Covid 19, cold or flu or have been in close contact with a confirmed case of Covid 19 please do not attend this event for the safety of others.