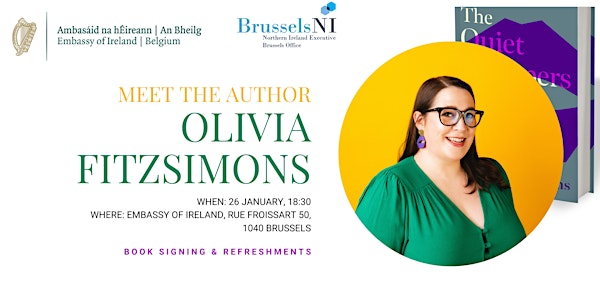 Meet the Author event with Olivia Fitzsimons
The Embassy of Ireland Book Club meeting with Olivia Fitzsimons
When and where
Location
Embassy of Ireland 50 Rue Froissart 1040 Etterbeek Belgium
About this event
The Embassy of Ireland, in partnership with the Office of the Northern Ireland Executive in Brussels, is pleased to invite you to our first 'Meet the Author' event in 2023, which will be held on 26 January at 18:30. Our guest author Olivia Fitzsimons will read from her debut novel "The Quiet Whispers Never Stop", shortlisted for the 2022 Butler Literary Award.
When: Thursday, 26 January at 18:30
Where: Embassy of Ireland, rue Froissart 50, 1040 Brussels
The event will be followed by a reception and book signing.
RSVP: Please register on Eventbrite to attend the event.
Olivia Fitzsimons is a writer, originally from Northern Ireland now living in Wicklow with her husband and kids. Her debut novel, The Quiet Whispers Never Stop, published by John Murray Press in April 2022, was shortlisted for the 2022 Butler Literary Award. She is a current Dean Arts Studio Resident in Dublin and the recipient of the Centre Culturel Irlandais Paris/Literature Ireland Residency for May 2023. She has been awarded grants from the Arts Council of Ireland and Northern Ireland for her writing, and her work has appeared in numerous publications including The Irish Times, The Stinging Fly, The Cormorant and broadcast on BBC Radio 4. She reads for The Stinging Fly and helps run an Artist Salon in Wicklow four times a year, hosting contemporaries reflecting on their craft. As part of the Irish Writers Centre Evolution Programme she was a Creative Writing teaching intern at National University Galway for a semester in 2021 and was a recipient of the WORDS Ireland National Mentoring Programme in 2018/19. She has a BA Hons in History from Trinity College Dublin and spent her Erasmus year abroad at the Rijksuniversiteit in Groningen. After working in advertising in London she returned to Dublin to complete a MA in Film from DIT and worked in film production. She has several screenplays in development and is currently working on a second novel. https://oliviafitzsimons.com/
We look forward to welcoming you on 26 January.
Kind regards,
Embassy of Ireland