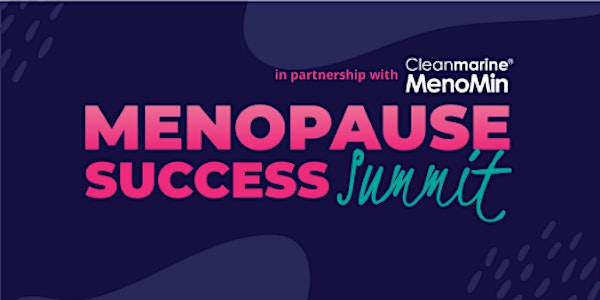 Menopause Success Summit 2021 in partnership with Cleanmarine MenoMin
Broadcast live from Fuel Studios, an online event giving you the latest information from top experts on the hottest menopause topics
About this event
Please note this is not your regular zoom call - this is a fully immersive event broadcast live from professional studios, like watching your own TV channel where you can ask questions and interact with other women in the same boat as you!
There's so much confusing and conflicting information about the menopause out there. But what do you actually need to know?
And which information is actually correct, and the most up-to-date?
In this live online event we're taking the mystery out of the menopause so you'll be empowered with the knowledge you need to flourish through your entire menopause journey.
You'll hear from 16 international speakers - including medical and scientific experts - featured in a 1-day interactive live event to set you up for success through your menopause.
Get expert advice and practical takeaways on all the hottest menopause topics including...
-Hormone Replacement Therapy (Dr Deirdre Lundy)
-Weight Management (Amanda Thebe)
-Nutrition (Dr Zoe Williams)
-Brain Fog (Dr Lisa Mosconi)
-Menopause in the Workplace (Catherine O'Keeffe, Wellness Warrior)
-Sleep (Tom Coleman)
-Mental Health (Diane Danzebrink)
- Perimenopause to Menopause (Dr Mary Ryan)
- Holistic therapies (Anny O'Neill)
-Sexual Health (Emily Power Smith)
Plus special guests Sile Seoige, Laura Dowling (the Fabulous Pharmacist) and more...
Tune in and learn from the top menopause experts and ask them your questions - without having to leave your home.
Virtual treats, competitions and prizes from our generous sponsors.
For more visit www.menopausesuccesssummit.com