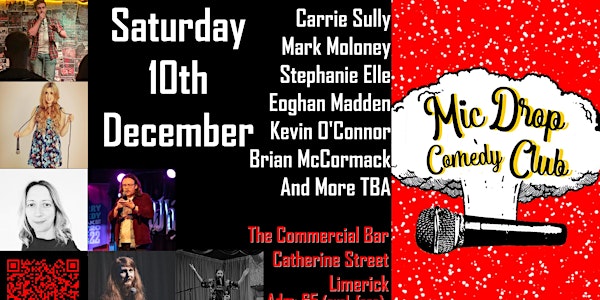 Mic Drop Comedy - Saturday 10th December
Mic Drop Comedy returns to The Record Room on Saturday 10th December!
When and where
Location
Record Room The Commercial 46-47 Catherine Street V94 T2V3 Limerick Ireland
Refund Policy
Contact the organiser to request a refund.
About this event
We're back in the Record Room of The Commercial bar on Saturday 10th December, featuring:
Carrie Sully
Stephanie Elle
Mark Moloney
Eoghan Madden
Brian McCormack
and your MC for the night Kevin O'Connor!
As always, there are limited seats available, so get your tickets early to avoid disappointment!
Tickets are €5 (excl. fees) and doors open at 8.30pm!
*More acts TBA
Mic Drop Comedy - Code of Conduct:
Mic Drop Comedy will not tolerate harassment, assault or bullying against any of its performers/promoters/audience or anyone who enters this venue. Our promoters and any act who performs within this venue agree to uphold the following code of conduct.
Grievance procedure:
Mic Drop Comedy agrees to uphold a clear and safe grievance procedure which includes the option to contact a neutral third party, and maintains the privacy of the person making the complaint. The grievance procedure is easily available and visible throughout the venue. If you cannot find the grievance procedure visible in the venue, or it has been vandalised, please let us know. If you would like to report a grievance please feel free to get in touch.
*Grievance procedure outline:
If any comedian/audience member feels unsafe to perform/attend Mic Drop Comedy because of an act you are aware we are booking in the future, please let us know.
If you are uncomfortable contacting Kevin, Brian, or our Social Media pages directly about it, you can contact our ticket manager Maeve (@maeveshan on Twitter).
If you do not wish to contact the club and wish to contact a neutral 3rd party, you may contact complaints@comedysafetystandards.com*
*Disclaimer:
"Comedy complaints cannot provide legal advice or counselling but they can submit the complaint anonymously on your behalf. Please report any illegal activity to the police, this includes assault, harassment and discrimination. If you have been assaulted you should contact the police or your nearest rape crisis centre."
This venue will not tolerate discrimination* against anyone on the basis of:
- Their race
- Their gender identity
- Their sexuality
- Their nationality
- Their religion
- Their disability
- Their class
*We understand and allow for performers to say whatever they wish onstage in the pursuit of making the audience laugh. Our performers are Comedians, who will use any language necessary to make the audience laugh, as is the nature of the craft.
Comedy is subjective, and while we understand that an audience member may be offended by the material in a Comedian's act, we also understand that a Comedian's intent is to make the audience laugh, and not to offend any individual or group within the audience. A comedy club is a place where comedians can hone their craft, and we facilitate allowances for a comedian's material to fail so they can learn and improve.
However, if an audience member has any issue with material from an act performing at the club, you may contact us (anonymously if you wish) and we will pass on the feedback to the act, and will take note in regards booking them in the future.
The following behavior will not be tolerated in any capacity:
a) Any unwanted touching, force or interaction with someone's body. *
b) Any unwanted threats to touch, force or interact with someone's body.*
c) Any physical contact without someone's consent. *
d) Any violence against any person.
e) Any threats of violence against any person.
f) Any sexual comments that make the person uncomfortable or feel unsafe.
*On the night we aim to operate at capacity and we cannot guarantee that anyone will not come into contact with another person due to the confined space.
However, if anyone has made inappropriate contact without your consent, please let us know so it can be dealt with appropriately. Our venue enlists security on busy nights (as per any pub/club/venue) who will assist with dealing with harassers as necessary.
Mic Drop Comedy will not book acts who are known to harass, assault or bully others outside the venue.
We endeavor in as much as is possible to not continue to book or book in the future, performers who have been directly reported to us as engaging in the following behavior:
a) by any means including by use of phone or by any means online. This includes harassing another person by persistently following, watching, pestering, besetting, messaging or communicating with them through any means for example, direct messaging, bot accounts or voice messages.
b) Anyone who uses violence to or intimidates that other person or a member of their family.
c) Anyone who Injures or damages the property of any person.
d) Persistently follows others about from place to place or trolls their social media accounts.
e) Watches or visits the premises or other place where that other resides, works or carries on business, or happens to be, or the approach to such premises or place.
f) Follows that other with one or more other persons in a disorderly manner in or through any public place.
If any act that we have booked in the future falls under these categories, and Mic Drop Comedy has not been informed of it, please let us know as per our grievances procedure above.
Please note that all shows are filmed for promotional purposes