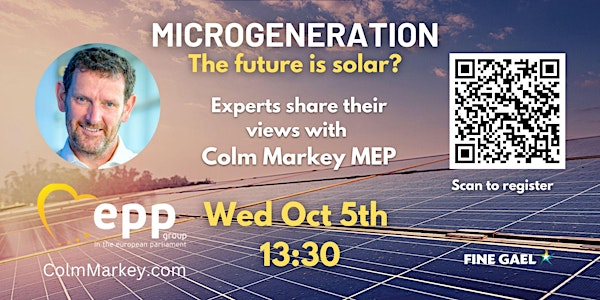 Microgeneration-The Future is Solar?
Join Colm Markey MEP and a panel of experts to discuss microgeneration: the road ahead for Irish farmers.
About this event
This webinar will explore Ireland's adoption of renewable technologies at farm level, in particular solar. How can we make microgeneration an attractive and viable option for farmers across the country?
Colm Markey MEP will host a panel of experts who will discuss the opportunities and the challenges.
Ruby McCarron, Net Zero Portfolio Manager, Bórd Gais.
Conall Bolger, CEO at Irish Solar Energy Association (ISEA)
Geraldine O'Sullivan, Senior Policy Executive, IFA
Each panellist will make a short contribution and there will then be the opportunity for questions from the audience.