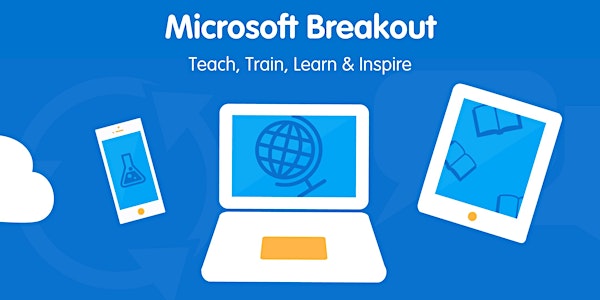 Microsoft Breakout: Teach, Train, Learn & Inspire
When and where
Location
Thomond Park Cratloe Road Limerick Ireland
Description
We are delighted to invite you to Microsoft Breakout, in partnership with Wriggle. During this event in Limerick's iconic Thomond Park, you will return to the classroom as a student to take part in a series of hands-on workshops designed to demonstrate how technology can be successfully implemented for teaching and learning.
Refreshments and lunch will be served as well as a complimentary tour around the legendary Thomond Park Museum!
AGENDA:
Registration: 8:30 –8:50AM
Welcome: 8:50 –9:00AM
Breakout 1: Class Notebook CBA, Assessment for Learning and ePortfolio: 9:00 – 9:40AM
Breakout 2: Collaboration within Microsoft Teams: 9:40 – 10:20AM
Breakout 3: Office365 on iPad: 10:20 – 11:00AM
Coffee Break: 11:00 – 11:20AM
Breakout 4: Accessibility and Learning Tools: 11:20 – 12:00PM
Closing: 12:00-12:10PM
Lunch: 12:10 – 13:00
BREAKOUT DETAILS:
Breakout 1:
Class Notebook, CBA, Assessment for Learning and E-Portfolio with Rosin Beaver

As a teacher, Rosin taught English, Technical Graphics and Computer Science in Coláiste Cois Life before making the transition to Wriggle as an Education Support Specialist.

With over 20 years experience in the classroom along with her ongoing work with many high profile education bodies around the country, and her MIE (Microsoft Innovative Educator) Expert accreditation, Rosin is fully qualified to deliver a comprehensive and enjoyable session around the subject of assessment through technology.
Breakout 2:
Collaboration within Microsoft Teams with Stephen Eustace

Stephen Eustace is a secondary school teacher of Maths and Accounting and ICT Co-ordinator at St. Joesph's Secondary School in Rochfortbridge.
His school was recently chosen to become a Microsoft Showcase School as a result of his expertise. He is a OneNote and Office 365 expert as well as being a certified MIE Expert and Fellow.

Breakout 3:
Office 365 on iPad with Jamie Johnston

Jamie started his career as an educator in Kingsland Primary School Scotland. From there, he hopped on a plane to the UAE, Repton Abu Dhabi where he spent 4 years teaching and played an integral part in the adoption of technology into the classroom.

Today, he works with us here in Wriggle where he has expertise in the use of multiple technology platforms and trains teachers on how best to utilise these tools in the classroom.
Breakout 4:
Accessibility and Learning Tools with Sean Glynn

Sean is new to the Wriggle team after spending the past 12 years teaching in Social Bhríde, B.N.S, Blanchardstown where he used technology in the classroom.

At Wriggle he's our expert coder, specialising in Minecraft. Sean is also an MIE expert.