Description
With a host of employers from throughout the region, it's a great opportunity to come and chat with us about opportunities we may currently have now or on the horizon.
The National Average Commute Time?
According to the most recent census data (collected in 2016), commuting times rose in every county with the average commuting time in Westmeath, Longford and Offaly close to half an hour. However, deeper insight shows that almost 35% of workers in Westmeath have a commuting time of more than 30 minutes. Almost 6% of people in Westmeath commute more than an hour to work and almost 6% have a commute time of 90 minutes or more.
Time Spent Travelling to work – 2016 Census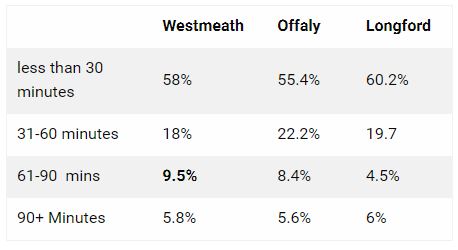 Source: CSO Ireland
Research shows that commuting long hours travelling to and from work also impacts our health & well-being, causing stress, increased blood pressures (and other associated health issues). (Source: Royal Society for Public Health)
So if you are one of those workers who wants to spend less time sitting in your car or on a train commuting and wants to spend more time with your family or doing the things you love, then come along to the Midlands Career Expo in Mullingar and see if there is an opportunity for you closer to home.
The Organisers
Midlands Career Expo is organised by Mullingar Chamber of Commerce. We are a business organisation representing almost 200 businesses, large and small, from all commercial sectors – retailing, manufacturing and the service industries through the professions.
Mullingar Chamber aims to actively work to shape, manage and promote the business and community environment of Mullingar, resulting in its recognition as an established location for business, industry and tourism and an enhanced environment in which to live and work.