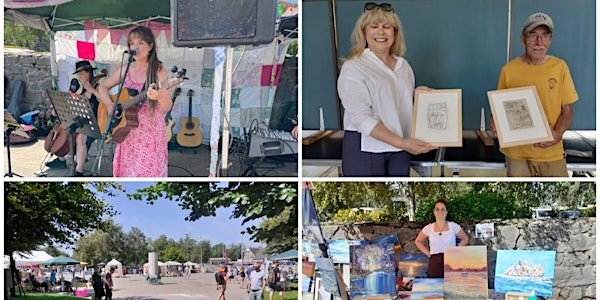 Midleton Art Market
The Midleton Art Market will be held again this year during the Midleton Arts Festival. Come and sell your artwork and meet other artists!
When and where
Location
Fair Green The Green Farmers Market Square Midleton Ireland
Refund Policy
Contact the organiser to request a refund.
About this event
The Midleton Art Market will be held on Fair Green, the market area where Midleton Market usually happens. Next to SuperValu on Sunday 17th July 11 - 4.
It was a fantasic day last year and such a lovely buzz to be amongst so many artists. We are thrilled to be running it again this year, and hope to make it a more regular event through the year with your help!
NOTE: Entrance for the public is FREE and the tickets sold here are for stallholders.
COST: €25 fee (plus a small eventbrite charge). This covers the use of the square, advertising, and organisation, plus Public Liability Insurance. (if you need further insurance for your artworks you will have to provide yourself)
No commission will be taken from your sales, so we would love instead if you advertise as much as you can. We want you to sell like crazy and have a lovely and lively day.
TIME: Setup is from 9.00 am with strictly no admission before that time.
The market is held from 11 - 4. You can leave early or stay later but if you arrive late you may not be able to set up easily unless you are very portable.
SET UP: There are walls all around the edges of the square, grassy spaces under the trees, plus the big paved square where stalls are set up on farmers market day. Artists will set up wherever they would like, no places will be allocated. Please be aware artists with paintings need the wall for leaning work against, and anyone with stalls and tables should be situated away from the walls in the middle two rows of the square. We will help with guiding you to an appropriate place if needed. If it is very sunny you might want to head straight for the shaded area under the trees.
We do not provide any tables/marquees/chairs etc. this is up to you to bring what you need, and you are welcome to set up whatever you need to display your works.
COVID REGULATIONS: Each artist is responsible for any social distancing and must abide by government regulations at the time. It is advised to provide hand sanitiser if people will be handling any items, and sanitise your hands between each monetary transaction.
If the weather is terrible that is also up to you if you come or not. We will email you if there is any issue with weather or cancellation.
We will have music playing through the afternoon from local musicians, upbeat but not super loud. There will also be a coffee van and hot food stall.
If you have any trouble or query on the day you can call Ilse 0864145445 or Danny 0872403940
There will be three or more volunteers in the square on the day. They will have information on the day in case of emergency or if you need any urgent help.
Please post your social media/website link and a little bit about yourself on our Midleton Arts Festival Facebook page, and use #midletonartmarket in everything you post on social media. Thank you!
And share the link for tickets with your artist friends https://midletonartmarket.eventbrite.ie
We look forward to seeing you on Sunday the 17th July!
See what the artists were saying last year!