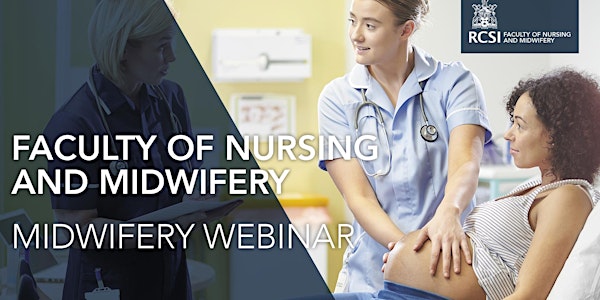 Midwifery Webinar - Integrated Leadership: Practice and Policy
Midwifery Webinar - Integrated Leadership: Practice and Policy
About this event
Registration for this event is now closed.
Please join us live at 11am via https://www.narrowcastmedia.co.uk/integrated-leadership-practice-and-policy/
The RCSI Faculty of Nursing and Midwifery is delighted to collaborate with midwives from clinical and academic settings to host this inaugural virtual midwifery workshop. In particular, the Faculty is pleased to work with midwifery colleagues from the RCSI Hospital Group on the development of this webinar.
During the pandemic midwives and nurses, have worked dynamically in a very challenging and evolving situation where they have worked tirelessly to prevent the spread of the disease to the women and babies in their care.
During the global pandemic, midwives have played a critical role in supporting and reassuring pregnant women and their partners during what is an increasingly anxious and insecure time. Midwives have embraced their leadership roles in both clinical and academic settings, having introduced protective measures to reduce the viral spread, developed new guidance and policies to inform practice and are at the vanguard of research into COVID-19 and keeping mothers and babies safe. In addition, midwives pay a crucial role in providing accurate, evidence-based information to support mothers and their partner's in decision making.
We hope that by having this workshop on line it will mean that it can reach much further to a larger audience and we welcome this event becoming annual to hear the expertise in maternity care.
You will hear expert speakers discuss a range of topics including global midwifery policy priorities and peri-natal mental health services.
Registration is essential for this free event.