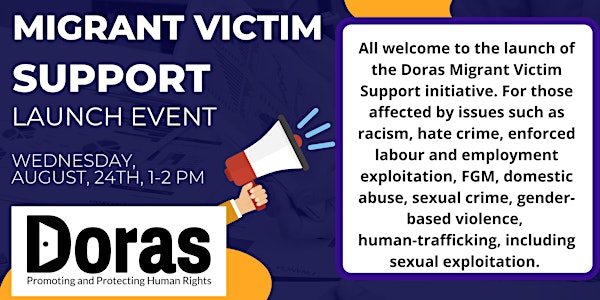 Migrant Victim Support Launch- Doras
Launch of the Doras Migrant Victim of Crime Support Project.
When and where
Location
Ormston House, Cultural Resource Centre 10 Patrick Street #9 V94 V089 Limerick Ireland
About this event
Doras is pleased to invite you to the launch of our Migrant Victim of Crime Support Project.
Launch takes place at Ormston House in Limerick on Wednesday August 24th 12-1pm and will also be live-streamed to www.facebook.com/dorasirl | please register and we'll send updates.
Doras has identified a need to expand and consolidate our victim support work in order to effectively meet the complex needs of and demand for our service from migrant and refugee victims of crime. Furthermore, we recognize the need for a national multi-disciplinary victim support service that specializes in providing dedicated support and meeting the special protection needs of migrant and refugee victims of crime. The project was developed to address the current gaps in service provision for victims of crime who have special protection needs in line with Article 22 of the EU Victims Directive.The project will work to overcome the significant barriers faced by migrants and refugees with regard to accessing justice and appropriate support services.
At the launch, we will outline what services this project will offer to migrants, asylum seekers and refugees that have been victims of crime in Ireland with a specific focus on victims of Trafficking, GBSV victims, racism, and hate crime victims. There will also be some time allowed to answer questions, network and explore how we can all work together to better support those that have been victims of crime. This project is funded by the Department of Justice.
We are inviting you to join us for our official launch on Wednesday 24th August 2022 at 12- 1pm at Ormston House, 9-10 Patrick Street, Limerick City, V94 V089. The event will be broadcast live on the Doras social media channels for those who are unable to attend in person. Please register by clicking the link below.
We look forward to meeting you.
This project is supported by the Department of Justice.