About this Event
Animation / Irish Premiere / Netherlands / 2019 / English / 30min / Age: Teen+
Please note this is an Autism Friendly and Autism Awareness Screening.*
This screening provides a comfortable and calming cinema-going experience for individuals on the autism spectrum, as well as adults and children with sensory conditions or learning difficulties. (See below for details.) But also Mind My Mind offers insight into the autistic mind: an abstract world for most people. The 2D hand-drawn animation, *changing colour schemes, expressive lighting, dynamic pacing and original score add to this experience.
It is a hopeful and optimistic film that encourages people to be patient with each other. It reminds us that if you don't judge too quickly, you might find something beautiful.
Mind My Mind is a film about how having a brain that is wired differently affects your social life, and particularly your love life. Flirting, sex and romantic relationships are very challenging for people with autism, as they are associated with thousands of unwritten rules and exceptions.
The idea for this film is a result of the director's professional and personal experiences with people with different forms of autism.
Chris, the main character, deals with his social and emotional limitations together with Hans, a little guy who lives inside Chris's head and who serves as an information processor. In his own unique way, Hans tries to help Chris survive the social jungle, with sensory overload as their mutual enemy.
Director: Floor Adams
Producer: Willem Thijssen, Tom Van Gestel, Floor Adams
Lead Cast: Simon Hodges, Cézanne Tegelberg, Adam Fields, Faye Bloomfield,
Animators: Nancy Bens, Juan de Graaf, Carl van Isacker, Elie Klimis, Peter Wassink, Tim Trenson
-----
Festivals and award include Tribeca Film Festival 2019 & Audience Award WINNER, Go Short International Short Film Festival 2019,
Far and away the best animated short film I've seen in 2019, writer/director Floor Adams's Mind My Mind is an absolute work of wonder, a visual feast with stellar vocal work across the board and a story that is miraculously insightful, entertaining, and even rather funny. - Richard Propes, The Independent Critic
____
World Cinema / Animation / Women in Film / Comedy / Coming of Age / Animation / Autism Friendly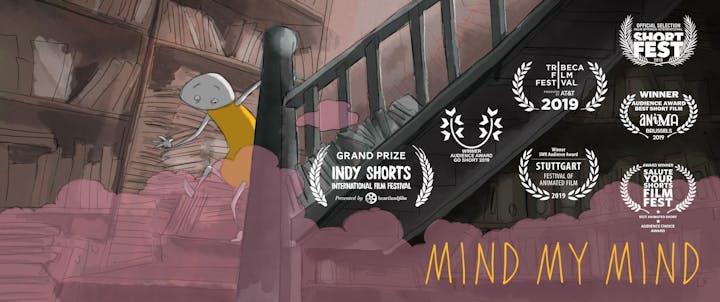 Sensory & Autism Friendly Screening details.
- We will ensure low auditorium lighting that audience are comfortable with but sight will not be restricted.
- Sound levels will be kept low and moderated carefully.
- We will remove of trailers before the film, there will be no introduction or Q&A.
- Audience are welcome to bring their own food or home comforts to ensure everyone can feel relaxed
- Open seating ( no seating allocation.)
- Assistance dogs are always welcome.
- Our friendly volunteers will be on-hand to provide assistance and support if needed.
Please email, festivalprogrammer@kerryfilmfestival.com for any question.
Follow Mind My Mind on Facebook
Watch the Trailer
More Info on this film - HERE