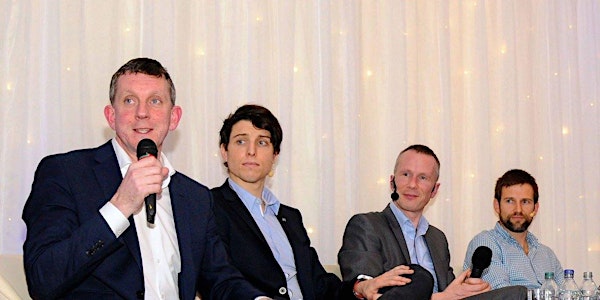 Mind Over Miles Dublin - Stories Shared, Goals Achieved
When and where
Location
Clarion Hotel - Liffey Valley Ireland
Description
Following on from the success of the inaugural Tri Talking Sport & Run Ireland event in Galway we are delighted to present 'Mind over Miles' in Dublin, a unique evening of insight and inspiration from ordinary people doing extraordinary things, sharing their stories of goals achieved. The Dublin event will take place on Wednesday March 2nd at the Clarion Hotel Liffey Valley.
Presented by Joanne Murphy of Tri Talking Sport & Run Ireland the event promises to whet the appetite of everyone seeking to achieve their goals in 2016 be it across sporting, personal or business ambitions. The confirmed line up of guests is outlined below.
Gerry Duffy, motivational speaker and best selling author of 'Who Dares Runs', 'Tick Tock Ten' and most recently 'The Goal Getter' has completed some amazing sporting feats including 32 Marathons in 32 days across Ireland in 2010. He has also completed and won the Deca Enduroman UK Challenge in 2011, his first outing at the gruelling challenge of completing 10 Ironman distance events in 10 days. Gerry will be signing copies of his new book 'The Goal Getter' at the event and will provide insight and inspiration for you to achieve your goals in 2016.
Gerry will be joined on the night by special guests Kevin Thornton, Eimear Mullan, Beth Mc Cluskey & Ray O' Connor. Kevin is Ireland's fastest middle distance triathlete, having taken up the sport in 2011 he turned professional in 2014 on the back of a great racing season in 2013. In 2015 he was crowned National Middle Distance Champion in July and in August went on to finish 3rd overall and fastest Irish athlete at the inaugural IRONMAN 70.3 Dublin against an incredible line up of International athletes.
Eimear Mullan is Ireland's fastest female long distance triathlete and is one of only 50 women in the world to go sub 9 hours at IRONMAN. The Derry native has recently changed coaches to join the team at Base to Race and will return to racing in 2016 following an injury plagued season last year. She has a huge number of successes under her belt including wins and podium finishes across middle and long distance events across the UK and Europe. She is one half of a successful racing couple and will marry UK Pro athlete Ritchie Nicholls in March of this year.
Proactive and RunIreland.com founder Ray O'Connor took up endurance running at the age of 30, Ray has completed 136 marathons to date, including two 100 mile events, the Marathon Des Sables, 24 hour running events and, on two occasions, the Brathay 10 Marathons in 10 Days Challenge. In 2010 Ray founded Marathon Club Ireland of which he was recently elected Chairperson, the club is now one of the largest running clubs in the country. Ray is also an enthusiastic Ultra Marathoner and sits on the Ultra Running Committee of Athletics Ireland. In addition to being an avid runner, Ray is one of the busiest race directors in Ireland, hosting and directing many sporting events across the country.
Irish Womens National Cyclo Cross Champion, Beth Mc Cluskey will also join us on the night. She recently returned to competing at the top level after a 5 year break from competitive international sport. The former international track and cross country runner turned to cycling while injured and went on to enjoy national & international success at both mountain biking & road biking. She retired from competition in 2009 but still spent a lot of time cycling, running & doing some coaching. A serious cycling accident in July 2104 left her badly injured and she embarked on a long road of rehab. 18 months later she won the national cyclo cross championship after a successful cyclo cross season where she was unbeaten at every race she contested.
Frank Greally also joins the line up for the Dublin event, the Ballyhaunis native has been Editor of Irish Runner Magazine for the past 35 years and still holds the Irish Junior Record of 30 minutes 17 seconds, a time he set in the Morton Stadium in Santry in 1970 when representing his club Donore Harriers.Frank's latest book Running Full Circle includes some hair-raising tales of his years in Tennessee, as well as a page turning account of how in past two years his restless spirit eventually found balance and peace and a way back to the primal joys of running.
The evening is sure to be of interest to athletes across all disciplines and abilities, there is something for everyone whether you are looking to complete your first 5k run, or looking for a PB in your chosen discipline. If you just want some inspiration come and join us on the night you will be inspired and motivated and never know where it might lead you.
Be sure to book your ticket sooner rather than later as we have a limited number available. For more information please log onto www.tritalkingsport.com follow us on Facebook Tri Talking Sport
Please note the doors will open at 6.45pm and event will start at 7.30pm sharp.