Description
MIND-SET FOR BUSINESS–Thinking Tools to help you get where you want to go

What you'll walk away with:
• An INSIGHT into how our thinking impacts our success
• RECOGNISE the difference between worry and concern - and which one to employ when we have a problem
• UNDERSTAND the power of perspective and how to develop an even more positive outlook
• Walk away with a DEEPER appreciation of just what you're capable of
• Practical STRAGTEGIES that you can employ in work/home to help you achieve your goals
This event is kindly sponsored by VHI Healthcare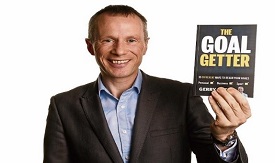 Gerry Duffy is an international speaker in the areas of Goal Setting, Leadership and Public Speaking/ Effective Communication and he has worked with over 800 companies and organisations since 2010. Formerly he was a twentysomething who was very unfit and living an unhealthy lifestyle. Since then he has made small consistent changes that have led to a radical change over time and completing many extreme sporting challenges including running 32 marathons in 32 consecutive days. His popular keynotes contain insights into how we can get the very best out of ourselves and are filled with ideas and strategies that can help us not just in the work environment but also outside of work too. He has also authored three books including THE GOAL GETTER- '35 Different Ways to Reach Your Goals.' He claims his single greatest achievement is overcoming a pathological fear of public speaking.
Parking availability: Yes
Please Note
Professional photography and video production may be taking place at the event and these images may be used on future promotional materials for CIPD. Please note that by attending the event, you are giving your consent for your image to be used on any CIPD promotional materials.
For your security and peace of mind, CIPD and its subsidiaries will not supply your details to any organisation for marketing purposes. By submitting this request you confirm that you agree to the use of your information as set out in CIPD's privacy policy. We reserve the right to include your name in a list of delegates at the event.
Non-members may click here to sign up to receive our e-newsletters which will keep you up-to-date with HR news in Ireland as well as CIPD Ireland events and survey research.