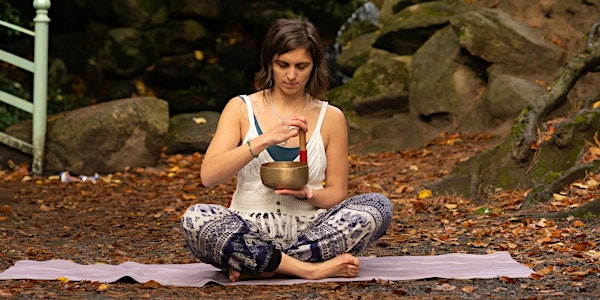 Mindful Friday : Hatha Yoga Flow & South Bath
A 2-hour workshop with a mindful Hatha Yoga flow followed by Sound Bath!
When and where
Location
Lotus Yoga 5 Little Fitzwilliam Place D02 X862 Dublin 2 Ireland
About this event
Please book via my website : https://www.seedsofjoy.space/event-details/mindful-friday-hatha-yoga-flow-sound-bath
Join in for 2 hours of Mindful Friday with yoga and sound bath. This session is a lovely way to finish your week and boost your energy for the weekend.
During the 2-hour session, we will go through a mindful Hatha Yoga flow, which will be followed by relaxation with a sound bath.
About Hatha Yoga
A traditional Hatha Yoga class consists of meditation, pranayama (breathing techniques), asana practice (yoga poses) and relaxation (savasana).
Hatha Yoga helps to relieve physical tension and stiffness and also build physical strength and flexibility. On the emotional and mental level, it soothes the nervous system, helping to manage stress and contributing to building a state of inner peace and harmony.
​It also helps us develop more self-awareness and more focus contributing to how we view ourselves and the world around us.
About Sound Bath
Sound bath is a meditative experience where participants are "bathed" in sound waves. These waves are produced by various sources, including healing instruments such as gongs, singing bowls, chimes and also the human voice itself.
In a sound bath, you lie down comfortably on your back ,like in the yogic pose 'savasana' (or on your side if you are pregnant or find it more comfortable), for the entire experience. You let your whole body experience the various waves and frequencies that are played.
Benefits of Sound Baths
helps the body relax
helps the body relieve any stuck energy and may help to relieve physical discomforts
different vibrations and frequencies can different organs, emotions, energy centres
creates a sense of inner peace and harmony.
increases sense of wellbeing
create a sense of expanded awareness/consciousness
You are invited to join this 2-hour workshop to increase your sense of wellbeing and restfulness through the science and practice of yoga and sound healing.
Who can join?
anyone and everyone!
all you need is to bring yourself and your mat
no previous experience necessary
About Anna
I am Anna , originally from Poland but living in Ireland since 2005.
I am a yoga teacher, meditation and breathwork facilitator and a wellbeing coach specialising in anxiety and stress management, women's health, embodied practices and creativity.​
My interest is in cultivating connection in order to strengthen the felt sense of self, develop more self-awareness and more ability to respond to life consciously and sustainably while experiencing the joy of living.
More about Anna
Website - https://www.seedsofjoy.space/
Instagram - https://www.instagram.com/seedsofjoy.yoga/