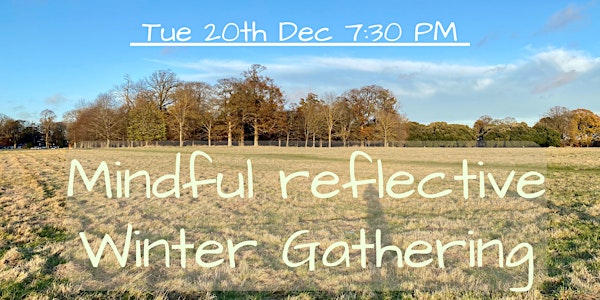 Mindful Reflective Winter Gathering
Join an online gathering for an evening of self-care and nourishing reflections on your past year before the start of the festive season.
Refund Policy
Contact the organiser to request a refund.
About this event
With the year coming to an end and festivities around the corner, this evening is an occasion to reflect on your 2022. This moment of pause will tend to the influential parts of your year before jumping in the new one.
This time of year moves all of us in different ways and mixed feelings or sensations might be showing up around us. You might be in anticipation and excited for celebrations or rather nervous about plans to get together or the lack thereof. You might feel proud with where this year has brought you or anxious about where it should have. Maybe you are dealing with loss, regret or grief; maybe you are filled with hope and dreams.
All of your experience is valid and welcome. We will gather this evening to let go and let in and this is an open space to share, connect or be with yourself. Gentle encouragement will bring awareness to your feelings, emotions and thoughts to support your way forward.
Let's take the time to rest, reflect and remember!
During this online gathering you will:
Celebrate yourself and your year
Put self-care in place to rejuvenate your energy
Connect with like-minded people in a mindful sharing circle
Mindfully check in with your thoughts, emotions and feelings
Relax in the present moment through breath work and meditation
Journal through reflective practices
Cultivate awareness and self compassion
Create space for your intentions, beliefs and desires
When? Tuesday evening at 7:30pm (Irish Time)
What to bring? Anything to keep you comfortable, pen and paper and an open mind.
Where? Register for this event and you will find the link to access the zoom meeting with your online ticket.
Much warmth,
Jenn
p.s. Feel free to get in touch with any other comments or questions on jennifer@jvucoaching.com
* for individuals aged 18 and above *