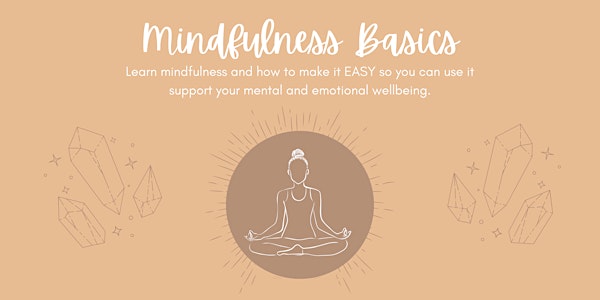 Mindfulness Basics
Improve all aspects of your life through mindfulness
Refund Policy
Contact the organizer to request a refund.
About this event
Improve all aspects of your life with a solid foundation in mindfulness. So simple, yet so powerful.
One of the greatest benefits of mindfulness is being able to show up in your life as your best self, to recognize and overcome your triggers, so that you can respond to life intelligently instead of reacting mindlessly. It also helps you to know and take care of yourself better and to start recognizing when you're living out unconscious trauma patterns so you can heal them.
It is an essential practice for anyone doing that inner-work of healing their past and unconscious patterns, so that they can life the deeply fulfilling life their soul craves.
Minfdulness has been shown to:
Reduce stress
Improve focus and efficiency
Hardwire you to be more calm and less reactive
Improve sleep
Improve relationships
Increase happiness and fulfilment
Improve physical health
Extend life
Heal anxiety and depression
In a world that's become so fast-paced, and where we're being constantly stimulated and in a hyper-alert state, it is imperative that we learn techniques that support us in calming our nervous system - both for our physical wellbeing and our sanity. It's up to us an individuals to normalize habits and lifestyle choices that support our mental and emotional wellbeing.
In this workshop you will learn:
What is mindfulness
Mindfulness myths
How to make mindfulness easy
3-4 mindfulness practices
We all have a choice of the world we want to live in, and what type of world we want to pass on to those that come after us. A world where we value the human experience is a good one. It's time to stop living on automatic pilot and start living consciously so you can truly enjoy the beauty and gifts that life has to offer.
Includes:
1-1.5 hour workshop
Workbook
3 x mindfulness meditations
1 month access to workbook
1 month access to group forum for questions and support
A transformational experience