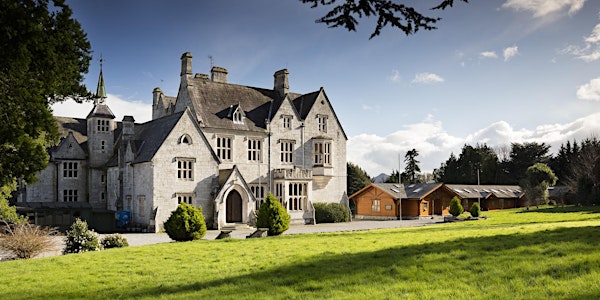 Mindfulness Practice in Schools Conference 2019
When and where
Location
John Scottus Secondary School Ferndale Road Rathmichael Ireland
Refund Policy
Refunds up to 7 days before event
Description
5th Mindfulness Practice in Schools Conference, 2019
Mindfulness With?
Making Connections through Mindfulness


Saturday, April 6th
Old Conna, Rathmichael, Co. Dublin
Developing mindful relationships in a busy school life is a challenge.
In this year's conference, we will explore how mindfulness can enhance relationships with yourself, your students, your colleagues, your school and your wider community
Workshops and speakers will explore:
Mindfulness with ....yourself - What is mindfulness and how to bring it into your life?
Mindfulness with .... your Colleagues / team - how can we as a team/staff be more effective?
Mindfulness with .your whole school - how to bring into your school? how to get the buy in? how to get everyone excited?
Connect with yourself.
Connect with the students in front of you.
Connect with the whole school community.
Returning after four successful sell-out events, Ireland's leading Mindfulness Practice in Schools Conference in 2019 will focus on how we, as teachers and educators, can begin embedding mindfulness right across our lives and schools.
Connect with teachers and educators from all around Ireland for this day of upskilling, exploration and practice of mindfulness in the stunning and tranquil setting of Old Conna, Rathmichael, Co Dublin.
Immerse yourself in practical skills and profound wisdom to help you bring mindfulness from lectures into everyday living.
This conference is for you if:
You've learnt about mindfulness but want to deepen your understanding and personal experience.
You attended our previous conferences and are ready to bring your application of mindfulness to the next level
You are interested in developing and furthering a more mindful culture in your school.
You've tried meditating but you're not getting to do it as regularly as you'd like.
You're feeling stressed or overwhelmed
You will leave the day with:
Cutting edge knowledge and insights from leaders in the field of mindfulness and education.
An understanding of what is the single most influential factor on learning in your classroom.
A clear sense of your own next steps on your mindful journey.
Having had a mindful experience, delicious food and enlightening company
Following on from the last three sell-out conferences that brimmed with diversity and information from right across this growing field, our aim this year is to shift mindfulness from talking about it to helping you live it.
Mindfulness Practice in Schools is an initiative supporting teachers in Ireland who wish to create a mindful culture in their school and develop a regular mindfulness practice in their own lives and classrooms.
We do this through an annual, springtime Mindfulness Practice in Schools conference. This day brings together international speakers, case studies from mindful schools, delicious food, a stunning venue, a peaceful atmosphere and a dynamic teaching community to create a rich experience of inner and outer learning... with lots of mindfulness practice too.
Conference Speakers & Workshops
Brian McGeough - McGeough Training
"Connecting with All - Making a full connection with all students"

It's easy to fully engage with people we love or have a natural affinity with, the trouble with this is, for most people that means only a handful. This talk will explore how we may connect fully with all our students, sincerely and wholeheartedly and the pivotal importance of mindfulness in making this a practical reality.
Brian McGeough is the CEO of McGeough Training, a boutique training and development consultancy founded on the conviction that human development is a philosophical enterprise requiring a method that respects the in-built capacity of each individual to overcome their limits, by means of their own intellect. For over 25 years he has helped people to become more fearless and self-directing through Socratic style facilitation, mediation and coaching.
Orlaith O'Sullivan
"Strength in community: Inspirations from Wake up Schools"
As well as employing mindfulness as a personal tool, what if it could help us to create kinder, more mindful communities too (class, school, family, locale)? From small 'nudges' to big-scale practices, how can we infuse a school - or our whole lives - with awake, kind, wise presence? Orlaith O'Sullivan is an International Coordinator of Wake Up Schools, the worldwide movement that supports Thich Nhat Hanh's vision of mindfulness in education. Their award-winning publication 'Happy Teachers Change the World' gathered together a wealth of experience from around the world on forming loving, happy school communities.
In this practical workshop, she explores a wider perspective of mindful living and working, and enjoy a 'taster' of some of the elements that are needed to create mindful communities so that we can leave with a sense of what may be useful in our particular environments.
Orlaith O'Sullivan works with teachers and schools to support more kind, wise communities and help them to make happiness a habit. She is the founder of two mindfulness groups in Dublin - Sonas for children and Suaimhneas for adults. Orlaith teaches and mentors widely, and her course Cultivating Happiness was the first of its kind in Ireland. She is International Co-ordinator of Wake Up Schools, the grass-roots movement to realize Thich Nhat Hanh's vision for mindfulness in education. She was a guest speaker at the Mindful Kids Peace Summit (February 2019) and is a curator and host of the World Happiness Agora (March 2019). Her passion is to explore creative ways to help us all lead mindful, kind, joyful lives.
Mary O'Brien
"Transforming your world by transforming yourself"

This workshop will discuss how it is possible to transform yourself through:
Connection with Yourself -Setting the Intention to Create Space for transformation by calming your mind, opening your heart and connecting to your inner wisdom.
Starting your day in a mindful way - 5 simple steps to help you feel refreshed, recharged, energised and MORE PRESENT to enjoy your day.
Building healthy habits for a happy life - Exploring habits and their powerful influence in your daily life. Letting go of habits that no longer serve you and making room for healthier habits to grow and support you on your MINDFUL journey.
Mary O'Brien works as a freelance Life Balance Coach and Wellness Educator in Co. Meath offering Mindfulness Courses, Empowerment Courses and Natural Living Courses/Workshops in schools, support groups and Adult Education Programs.
Rutger Kortenhorst
"Wellbeing using Ayurveda and Yogasutras"
Ayurveda and the Yogasutras are components of traditional Indian Philosophy that support Wellbeing. Ayurweda gives suggestions on how you plan and prepare your day, what you eat and drink, what physical activities you engage in, what time of the day and how frequently. The Yogasutras make suggestions on adpoting positive attidudes and knowing yourself. This workshop explore how the many practices from Ayurveda and the Yogasutras can promote a mindful way of level by stimulating good habits and discouraging bad habits.
Rutger Kortenhorst has been part of John Scottus School since its inception in 1986. His main interest is the Sanskrit language renowned for its wise texts, scientific grammar and its sound resonating deeply within. He has been going to India since 2004 on an annual basis for 2-3 months to study Sanskrit from traditional teachers and to study the culture and holistic lifestyle that is part and parcel of these studies. Since 2014 he has put together a Short Course in Wellbeing for the Junior Cert based on Ayurvedic knowledge for living with a healthy lifestyle and Yoga-sutras which is a system of practices to calm the mind.
Máire O'Higgins
"Leading Mindfulness initiatives in School"
Máire O'Higgins is a Chaplain and Assistant Principal in a DEIS school in Dublin's north east inner city. She leads mindfulness initiatives in the school and local community and in her work as Chairperson of the Dublin Bay South constituency of the Green Party. She sat on a committee with Sr Stanislaus Kennedy and colleagues to develop mindfulness in schools in Ireland. She has trained with Richard Burnett and the .b Mindfulness in Schools Programme and she has trained with the Institute for Mindfulness Based Approaches. Máire has a daily mindfulness practice.
Niall Callaghan
"Supporting Mindfulness on a daily basis"
Niall Callaghan is the Deputy Principal of John Scottus National School in Ballsbridge. The practice of Mindfulness and Meditation is embedded in the everyday structure of the school day. One of the first activity that the whole community share together on a daily basis is a moment of stillness. This focus and importance on stillness and its importance is reflected in the school motto of "Delight in the Present". Niall has led many mindful initiatives in the school and helped develop routines to support mindfulness in the school. He has been taking part in his own mindful journey for the past 25 years.
Dr. Ann Caulfield, Mindfulness Matters
Dr. Ann Caulfield, co-founder of Mindfulness Matters, is one of the country's foremost advocates of the practise of mindfulness in the classroom. She conducted research into the impact of mindfulness on stress reduction among Irish primary school teachers and co-created the popular summer course Developing Mindfulness and Wellbeing in Primary School Children through SPHE. Her recent contribution to the Mary Immaculate College publication entitled WISE – Wellness in Schools Everyday, focuses on the A, B, C of Teacher Self-care.
Dr. Declan Kelly - John Scottus School
Dr. Declan Kelly is a the principal of John Scottus Secondary school. The practice of Mindfulness, Meditation and Philosophy has been present in the school since it was founded in 1986. This is reflected in the school motto of "Delight in the Present". He has been practicing Mindfulness and meditation for over twenty five years.