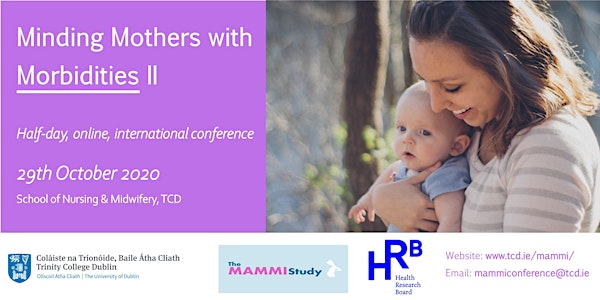 Minding Mothers with Morbidities II Conference
Half-day, international, online maternal health conference
About this event
The MAMMI (Maternal health And Maternal Morbidity in Ireland) Study are pleased to invite you to the Minding Mothers with Morbidities II online conference. Taking place on 29th October 2020, this international conference aims to bring together professionals from all backgrounds with a shared interest in improving maternal health. The conference includes plenary talks, 3 concurrent oral presentation sessions and poster presentations. The conference will take place entirely online and will be streamed live. Registration for the conference is free.
Zoom room open from 8:45am
Opening address commences at 9:00am
Keynote speakers include:
Petra ten Hoope-Bender, Technical Adviser Sexual and Reproductive Health, UNFPA
Professor Richard Greene, Director of the National Perinatal Epidemiology Centre (NPEC)
Angela Dunne, National Lead Midwife and Dr. Peter McKenna, Clinical Director, with the latest developments on the National Maternity Strategy
Further details on our conference programme will be published on our website www.tcd.ie/mammi
For further information email us at mammiconference@tcd.ie
MMM II is funded by the Health Research Board (HRB).